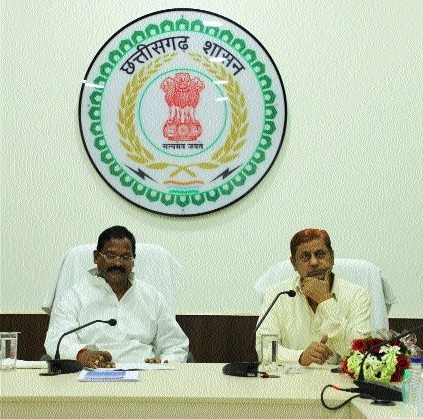 Minister Amarjeet Bhagat
chairing the meeting.
Forest Minister Mohammad Akbar is also seen.
Staff Reporter :
RAIPUR,
The virtual meeting of cabinet sub-committee was held under the chairmanship of Minister for Food, Civil Supplies and Consumer Protection Amarjeet Bhagat on Wednesday. The rates obtained in the auction of the surplus paddy were discussed in the meeting of the cabinet sub-committee for sale through auction of the surplus paddy procured from the farmers of the state on minimum support price (MSP). The maximum rates were approved in the meeting.
It may be mentioned that the cabinet sub-committee was formed to review the policy of procurement of paddy and custom milling for approval of the maximum rate obtained in the auction of lots of surplus paddy by the state government. Agriculture Minister Ravindra Choubey, Transport Minister Mohammad Akbar, School Education Minister Dr Premsai Singh Tekam and Higher Education Minister Umesh Patel participated in the meeting through video conference. In the virtual meeting of the cabinet sub-committee, the rates received in the auction for 74,085 quintal coarse paddy and 12,989 quintal thin paddy were discussed and approved. The rates of Rs.1350 or more for remaining 47, 994 tonnes of coarse paddy and Rs 1,400 or more for 9,445 quintals of thin paddy were approved. Along with this, the rate of Rs 1,350 and above for 11,789 quintals of thin paddy has also been approved by the cabinet sub-committee.