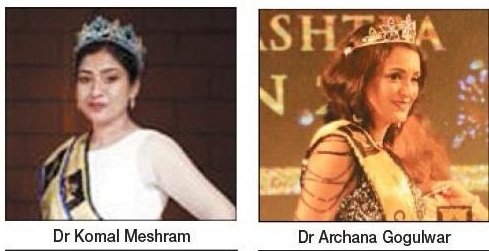 Principal Correspondent :
Dr Archana Gogulwar adjudged as 'Mrs Confident'
Mediqueen Medico Pageant Season Two was held in Pune where Dr Komal Meshram, Associate Professor working at Datta Meghe Medical College, Wanadongri, has bagged the honour of being first runner-up Mrs Maharashtra Mediqueen 2021. Around 200 doctors had participated from where 40 were selected. Dr Komal got selected in best 10 contestants working for social cause and was also crowned as Mrs Gorgeous.
Dr Archana Shriram Gogulwar from Nagpur bagged the title of 'Mrs Confident'. Dr Prerna Beri Kalekar, Chief Organiser, and Dr Prajakta Shah, Show Co-ordinator, conducted the audition of female doctors from all over Maharashtra for the Mediqueen pageant. This year, it was the second season of the contest. From final six contestants, Dr Komal Meshram was crowned as first runner-up after giving answer to the question what one rule you would like to break for which answer given was to make education wisely free for people all around the world of any sex, caste, creed and religion so as to remove illiteracy, poverty and make them self-dependent.
It was judge by Samir Dharmadhikari, renowned Marathi film star, Dr Kanchan Madar, Dr Minakshi Desai, Dr Ashwini Patil and Dr Pooja Wagh. Almost 300 contestants from across Maharashtra participated. Of them, 40 doctors were selected for the finale. They went through various rounds namely introduction round, talent round, traditional round, Indo-Western round, question answer round. Dr Archana Gogulwar was crowned as 'Mrs Confident'. Dr Archana got the position in top 12 social work category.