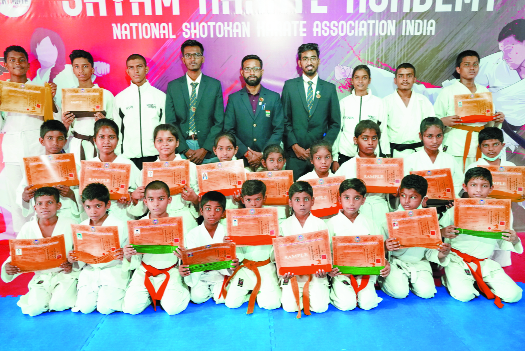 KARATEKAS of Shyam Karate Academy (SKA) did the institution proud by successfully clearing the belt gradation examination, recently.
The students successfully passed in recently held examination conducted in support of NSKAI, Nagpur District.
The examination was conducted under the guidance of Sensei Sanjay Ingole.
Sensei Mohit Pandiya was the chief examiner of the examination. Sensei Sushant Zade assisted him.
All students give the credit of their success to their coach Sensei Shyamsunder Verma, Directoa and Chief Instructor of Shyam Karate Academy and Sensei Roshani Chavhan head coach of SKA.
The successful candidates are: Yellow Belt: Parth Umale, Kshitij Kalaskar, Ayush Gupta, Aman Naikane, Mansi Badghaiya, Ritika Jaiswal, Shruti Jaiswal, Tanupriya Khobragade, Pratik Badghaiya and Niranjan Samantaray.
Orange Belt: Devansh Attargade, Atharv Kadoo, Poonam Chauragade, Simran Sharma and Bishesh Dhal.
Green Belt: Ajinkya Tarale, Rohan Meshram, Roshan Sharma and Sai Mashram.
Brown 2nd Kyu: Yog Chikram and Smutisneha Nanda.