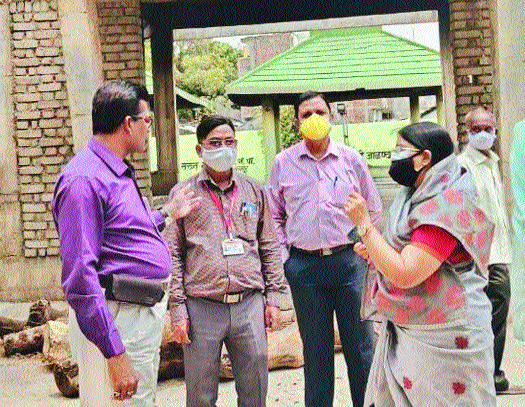 The LPG crematorium for which former Rajya Sabha Member Avinash Pandey had given a fund of Rs 50 lakh to Nagpur Municipal Corporation (NMC) in 2016 is still not installed at Shanti Nagar ghat.
The issue was being raised by Abha Pandey, senior corporator and now Vice-President of Nationalist Congress Party consistently but no step was taken by the authorities. Now, the present Mayor Dayashankar Tiwari taking cognisance of the complaint lodged by Abha Pandey has asked the officials to take serious action against the guilty. He also directed officials to issue show cause notices to the employees involved in it and contractors. He further ordered to start the remaining work immediately.
Avinash Pandey had given the fund in 2016. Accordingly, a proposal to set up LPG Crematorium at Shantinagar Ghat was moved. The contract was assigned and it was told to the company concerned that the work should be completed within six months. The crematorium should have been ready by July, 2, 2017.
The estimated cost was Rs 46.18 lakh of which NMC had paid Rs 12,41,698 to the contractor.
Abha Pandey told 'The Hitavada', "The contractor has only developed infrastructure which I have seen. The Project Management Consultant (PMC) Messers Speck Designer Limited has too inspected the work. The reasons for delay which NMC has cited to my question are inexplicable and beyond anybody's understanding."
NMC in its reply to Abha Pandey says, 'PMC was constituted on August 31, 2017. On November 24, 2017 the authority got soil investigation and then it received design. Meanwhile the concrete grade in design too got changed after which the work gets momentum. Since the space was not adequate, the layouts too are changed. It was proposed to get the work done by removing burning shed but the local residents opposed the move. Now the work of construction of chimney, gas godown is pending."
According to Abha Pandey, the above reasons are not valid. She has also objected on the reason of COVID 19 that NMC pointed out in its reply. NMC said, 'The work came on standstill due to COVID 19 as no skilled labour was available.'
"The time that permitted to the contractor for completing the work was six months and it was much before COVID 19 lockdown, in 2017. Why the contractor took so much time. It is fifth year. How can a work like LPG Crematorium take five years and still fail to see the light of the day is a million dollar question. Now the civic body has to bear the escalation cost too howsoever it be," argued Abha Pandey.