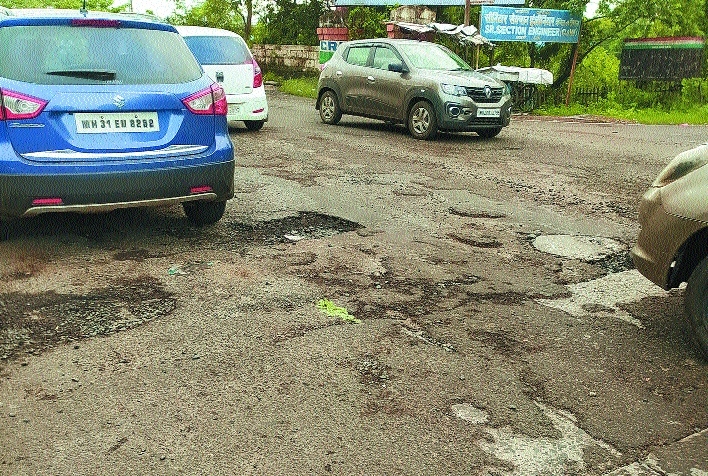 Vehicles continue to ply on the British-era bridge which has exceeded its life. Commuting on the over 100-year-old bridge, now full of potholes, is a challenge even for drivers of luxury cars.
Principal Correspondent :
Soon the Ajni bridge would be converted into at four-lane wide bridge. The work contract has been allotted to a reputed company, NCC. The work would begin soon, but what about its present status? For how long commuters have to suffer because of crater-like potholes and damaged road. The bridge serves as a lifeline for residents of South, East and Central Nagpur who use it to reach West Nagpur. It connects people of East, Central and South Nagpur to West. This bridge has already completed 100 years of its existence. The company that had built the bridge had sent a letter and cautioned the Indian Government to repair the same. But the civic body, after doing a superficial repair work, has left the British-era bridge to its fate.
It was Abhijit Bangar, the then Municipal Commissioner who had taken lot of pains for revival of the bridge. According to the report submitted by Visvesvaraya National Institute of Technology (VNIT), the bridge needs immediate renovation. Heavy vehicles' entry was barred on the bridge as its condition is not so good. Despite installation of height barrier, heavy vehicles keep moving on the bridge. Plying of heavy vehicles on the bridge is posing threat to not only the commuters but also the railway line under it. Nagpur Municipal Corporation (NMC) had installed height bars at both ends of Ajni bridge to prevent the heavy vehicles from using it. But trucks kept moving from other side. After the report submitted by Visvesvaraya National Institute of Technology (VNIT) about lifespan of Ajni bridge, Central Railway, VNIT, NMC swung into action.
The first action meeting suggested was regarding prohibiting vehicles from using footpaths on the bridge. NMC did it and installed iron bars all over the footpaths. It was suggested by the VNIT report that heavy vehicular movement should be prohibited since the bridge is not capable of carrying the load beyond its capacity. Had these measures went well then the bridge could have used for five years. But it seems the bridge needed to be demolished and second one to be constructed. The footpaths were closed but heavy vehicles kept moving. Police did take action but these vehicles used the bridge during late night hours which Police could not resist. Central Railway is monitoring the work of survival of the bridge while Nagpur Municipal Corporation (NMC) is doing actual work. Pravin Datke, President of BJP and MLC told 'The Hitavada', "Bridge would be demolished. A new four-lane bridge would replace it. Till the completion of construction of new bridge the traffic would be diverted."