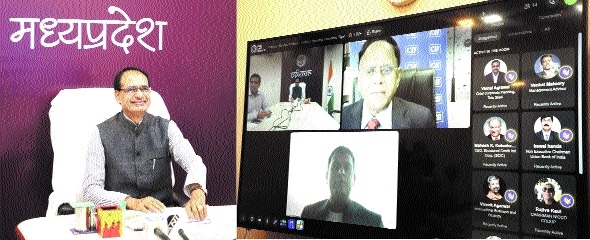 Chief Minister Shivraj Singh Chouhan virtually attending 'Horasis India Meeting 2021', on Saturday.
Staff Reporter :
Chief Minister Shivraj Singh Chouhan said that Madhya Pradesh meets the standards of ESG (Environment, Social Responsibility and Governance) of industrial development. State has a clean environment, good work is being done under Corporate Social Responsibility (CSR) and we are committed to good governance, he said. "We are not just the 'Heart of India' but people with heart. The location of Madhya Pradesh is the best from the point of view of establishment of industry and we the people of the state love everyone.
Whoever visits us, becomes our very own," he told. He said that Madhya Pradesh has all facilities and favourable environment for investment. Madhya Pradesh is among the leading states of the country in 'Ease of Doing Business'. Come, invest in Madhya Pradesh, earn profits for yourself and provide employment opportunities to the people of Madhya Pradesh. He was attending the main session of 'Horsasis India Meeting 2021' through video conferencing from his residence on Saturday. This session was organised on 'Madhya Pradesh, India's Emerging Economic Tiger'. He said that Madhya Pradesh is an island of peace. It has a very conducive environment for industries.
Here energy is abundant with mineral, water and forest wealth. Apart from this there is plentiful of land, skilled human resources, industrial peace, industrial areas etc. Our investment policy is industry-friendly. We take full care of the requirements of the investors and give them packages generously. He said that Madhya Pradesh is number one in the agriculture sector in India. Basmati rice and Sharbati wheat here are unmatched. Horticulture and medicinal crops are abundant. There is also a huge potential for investment in the pharmaceutical sector. Madhya Pradesh is a five-time winner of the Krishi Karman Award . The agricultural growth rate of the state is around 20 per cent.