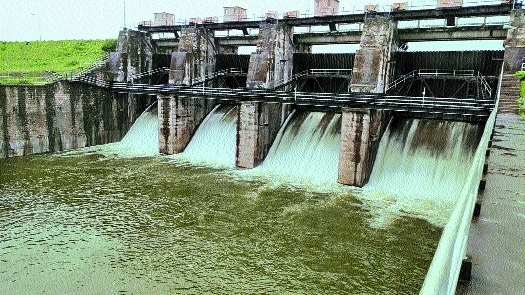 Water gushing out of the four open gates of Shahanur dam. (Pic by Ashok Pinjarkar)
Amravati Bureau :
Youth drowns in C'dhara's Barugawhan village n 4 gates of Shahanoor dam opened
AMRAVATI, INCESSANT rainfall in the district in last few days has caused massive disruption and has thrown normal life out of gear. Rivers and nullahs are overflowing while water levels in dams have been risen sharply. Four doors of the Shahanoor dam in Anjangaon Surji tehsil have been open. A youth drowned into flood water of the river in Barugawhan village in Chikhaldara tehsil on Friday night. After rain slowed down on Thursday it again pick up today in Amravati District. The district has been receiving continous rainfall from last four days. The rain have disrupted normal life, e specially in remote areas in Melghat region of the district. Communications of some of the villages in Melghat region still remains disconnected.
Meanwhile, four doors of Shahanoor dam in Anjangaon Surji tehsil were opened on Saturday. Two doors were opened by 35 cms while the other two by 40 cms. If rains continue in the catchment area of the dam, the doors will have to be opened further. Administration has issued alert for people living on the banks, Manoj Lonarkar, Sub-Divisional Officer from Daryapur and Abhijit Jagtap, Tehsildar, are keeping a close eyes on the situation. Uninterrupted rains inflicted heavy damaged on crops as water is getting accumalting in the field. Flood water are further inundating the fields. As per primary report, a total of 19 villages from Western Vidarbha have got affected due to incessant rainfall in last 2 days. Total of 2,297 houses got damaged and crops on 9,914 hectare land got damaged.
An average of 42 mm rainfall was recorded on Thursday last while 17 mm on Friday. As per information, two tehsils have been affected in Amravati District due to heavy rainfall. As many as 46 houses damaged and crop on 263 hectare of land got affected. In Washim district, total of 6 tehsils have been affected while 14 houses have partial damaged and crops on 2,671 hectare affected; in Akola, 5 tehsils have been affected, 2237 houses damaged and crop on 6,200 hectare affected; in Yavatmal five tehsils have been affected, 40 houses damages and crop on 740 hectare land affected. Mangesh Hiralal Akhande, aged 25, from Barugawhan village died due to drowning in the river on Friday. The incident came to light when bullocks returned back from the farm without Akhande.
His relatives and villagers started looking for him and found him on the bank of the river. They immediately rushed him to Rural Hospital at Churni. But as he wasn't responding to treatment he was referred to Paratwada. Unfortunately, he breathed his last midway near Bahiram. Deceased Mangesh Akhande leaves behind parent, wife and two daughters to mourn his loss. Police have registered a case while Gajanan Bharti, Rupesh Shingne and Pavan Satpute from Katkumbh Police Chowki are investigating further in the incident.