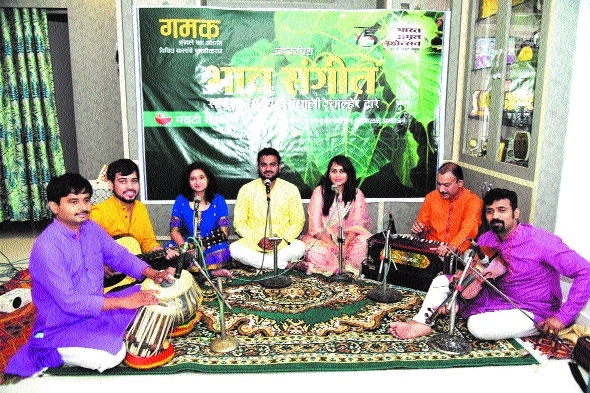 Artists presenting Marathi Bhaav Sangeet, under Gamak series.
Staff Reporter :
A melodious Marathi Bhaav Sangeet was presented by the artists from Gwalior on Saturday's Gamak series. The performance also went live on social media. Keeping in view the ongoing Covid-19 pandemic, various academies associated with the Department of Culture, Government of Madhya Pradesh have decided to telecast the cultural series 'Gamak' on social media platforms, where online performances delivered by cultural artists belonging to diverse cultural disciplines would be presented.
The Bhaav Sangeet holds a prominent position in Marathi singing tradition. The chief performers of the event Poorvi Sandeep, Piyush Gore and Gauri Gore led the performance, which begun with Ganesh Vandana. The performances following up after Ganesh Vandana were the soulful songs rendered during the monsoon season, some of which were: Soor Niragas ho, Shraavanaat Ghan Nila Barasla, Pratham Tujh paahta and Chaandne Shimpit.
The mellifluous songs mesmerised the audience. Narayan Kaate was the conversationalist of the programme and Ankur Dharkar was the facilitator. The programme was organised by Uday Paraanjape, Director of Marathi Literary Academy. Under the Gamak series, the senior painter Mahavir Verma, Ratlam will deliver an oration on the topic of traditional folk styles and experiments of painting, organised by Kalidas Sanskrit Academy. Senior painter Mukesh Bijole, Ujjain will preside over the programme. The lecture will be telecast live on the YouTube channel and Facebook page of the department.