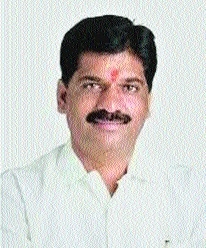 By Vikas Vaidya :
Party chief Duneshwar Pethe personally approached those who had left the party and brought them back to Party fold
Making a smart move, Duneshwar Pethe, a newly-appointed President of city unit of Nationalist Congress Party (NCP) has inducted new and old partymen in the executive body that was announced recently. Senior NCP leader and MP Praful Patel has declared the same. NCP has announced a jumbo body of 122. The senior and effective members who had almost decided to leave the party and join BJP or Congress were contacted personally by Pethe and accommodated into the new body. Gulshan Muniyar, Mohan Gurupanch, Usha Chaudhary were in touch with BJP. An active member like Shrikant Ghogre whose contribution to NCP's growth in South Nagpur was immense, got tilted towards BJP. Raman Thaokar, who also had almost joined Congress. But Pethe personally contacted them, met them. Explained to them the Party's stand, assured them dignity and respect. They accepted the proposal of Pethe. Similarly Ravinish Pandey was brought from Shiv Sena and given a good position in the body.
A new and enthusiastic face, Shrikant Shivankar was made Vice President. Shrikant Ghogre also was made Vice President along with Raman Thaokar. Gulshan Muniyar was given the responsibility of East Nagpur President while Gurupanch also was made Vice President.
The body has 34 Vice Presidents, 28 General Secretaries and equal number of secretaries, 14 Organising Secretaries, three Joint Secretaries, one- Virendra Yaduka Treasurer and three-- Satish Itkelwar, Nutan Rewatkar and Santosh Singh spokespersons with nine executive members. According to highly placed sources, NCP has asked the team to ensure maximum damage to BJP. How far the city NCP would be able to do that would be seen in near future. Sources in BJP said, the exit of the members that were taken by Pethe into NCP's fold will not have any impact as BJP is a cadre-based party. While talking to The Hitavada, Duneshwar Pethe said, "BJP was expected to say so. But we will not argue on it. We are satisfied that people even from BJP are joining our party. I am not damaging on my own but I am welcoming their entry into our fold." NCP is playing all these games keeping an eye on upcoming corporation elections. It is most likely that NCP may not have an alliance at least with Congress.