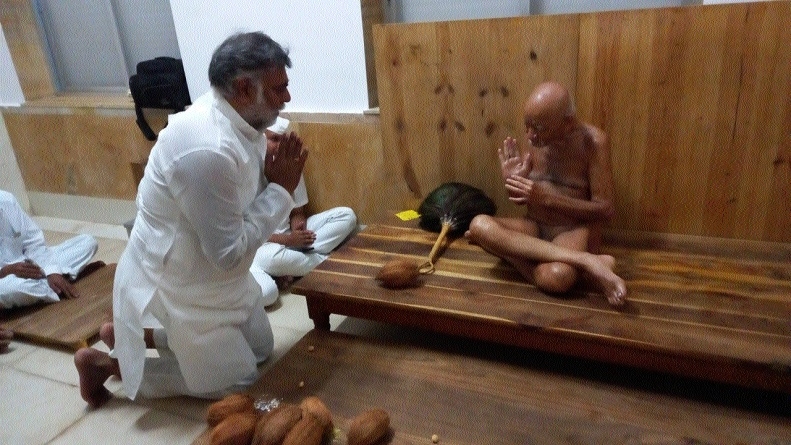 Union Minister of State, Prahlad Singh Patel being blessed by Acharya Vidyasagar Maharaj.
Staff Reporter :
Union Minister of State for Jal Shakti and Food Processing, Prahlad Singh Patel sought blessing from Acharya Vidyasagar Maharaj on the pious occasion of Guru Poornima, on Saturday. In his discourse, Acharya Vidyasagar Maharaj informed about the significance of Guru (Teacher) and given example of Ghee and Milk. He said that a true Guru never applaud his/her achievement of training their students. Guru acquired knowledge through several sacrifices and hard works and spent life for preparation of future citizens.
On the occasion, Union Minister of State, Prahlad Patel was accompanied by Indira Gandhi National Art Centre, Trustee, Alok Jain, Central Jal Shakti Secretary, Rahul Jain, Mamlesh Sharma, Rajkumar Singh, Pratigya Patel. Dr. Suhas Shah (Mumbai and Sheetal Doshi (Pune) presented Shaashtra to Acharya Shri while Jain Panchayat Sabha, President, Kailash Chandra and Saurabh Jain got the opportunity of Aahar Charya of Acharya Vidyasagar Maharaj. Members of Digamber Jain Sanrakshni Sabha urged from Acharya Shri for organizing Chaturmas programme in Jabalpur and presented him Shreephal.