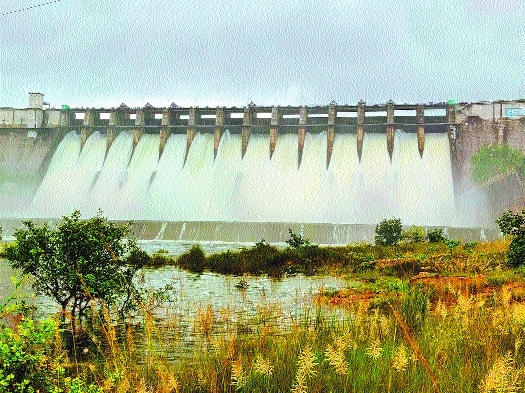 Storage in Totladoh dam was 60.5% of its capacity on Saturday.
Staff Reporter :
Despite good rains, four out of six divisions in State have below 50% water stock
Though most places in Maharashtra are witnessing floods following incessant rains in last few days, water storage in four out of six divisions is at below 50% mark. However, the total water stock of all the divisions of the State is just 44%. Nashik division has the lowest 28.21% water stock followed by Aurangabad (33.07%), Nagpur (35.8%) and Amravati (41.62%) divisions. Konkan division has the highest 56.1% water stock and Pune division has 55.86% till July 24. Nagpur division has 384 reservoirs whose designed collective storage is 4,607.01 Mcum. The total water stock on Saturday was 1,649.15 Mcum. Totladoh reservoir which is the major contributor of drinking water for Nagpur city has water storage of 60.5% of its capacity on Saturday.
Last year on same date, the water stock of the dam was 82.82%. The Indian Meteorological Department (IMD) has predicted normal monsoon this year. But, the performance of monsoon so far in Nagpur division is still not upto the mark. The latest spell of rains in the division crossed the normal mark but Gadchiroli, Bhandara and Gondia districts are in deficit. Khindsi reservoir in Nagpur district has just 31.93% of water storage whereas Wadgaon dam has the highest water stock with 71.38%. Nand and Kamptee Khairy dams have zero water stock as on Saturday. Chandrapur district in the division received highest 45.5% above normal rainfall so far followed by Nagpur (11.4% above normal) and Wardha (8.8% above normal) districts.
The Weather department is predicting more light to moderate rains in the last week of July which will likely to improve the water storage in dams. Like Nagpur district, the dams in Bhandara, Gondia and Gadchiroli districts have low water stock till July 24. Gosikhurd dam which is a major project in Bhandara district has just 40.99% of water storage on this date. Last year it was 49.57% on the same day.