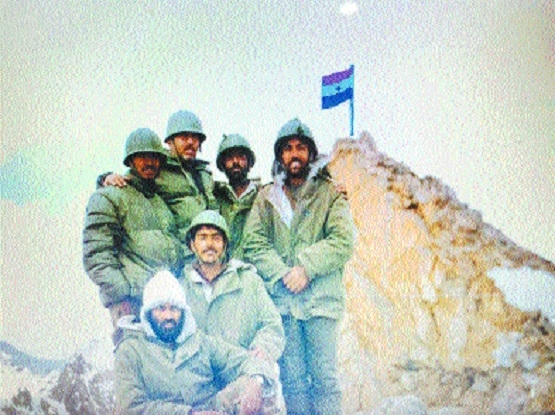 (Sitting, centre) Col (Dr) Rajesh Adhau (then Captain) along with (sitting) Major (now Col) Gurpreet Singh, (Standing, L to R) Capt (now Col) Sanjeev, Lt Col (now Lt Gen) Y K Joshi, Capt Vikram Batra (decorated with Param Veer Chakra), Major (now Col) Vikas Vohra, giving a victory pose after
recapturing Point 5140 during Kargil War.
By Kartik Lokhande :
From Kargil frontline to COVID-19 front, soldier-healer Col (Dr) Rajesh Adhau has been serving the nation
Years ago, a young doctor joined the Indian Army. His first posting was at Army Research and Referral Hospital, Delhi. He was happy to be working at such a big and prestigious medical facility of the country. He never thought that his life would change. Then came Kargil. The soldier-doctor – Captain then -- soon found himself on the battleground. On the first day of the climb in the icy heights of Kargil, he and his commanding officer then Lt Col Y K Joshi were moving towards hump area inch by inch during the battle to recapture Point 5140. This young doctor was totally tired and wanted to stop near a big boulder. Lt Col Y K Joshi (who is now Lt Gen and General Officer Commanding, Northern Command, Indian Army) told him not to stop and pushed him ahead. After moving 50 metres, one artillery shell exploded on the same rock where this young doctor had intended to stop.
This young doctor rushed to the higher reaches with his medical orderly and supplies, all the while under persistent enemy fire, and saved the lives of many wounded by administering speedy medical assistance on the spot. Twenty-two years later, he is now Col (Dr) Rajesh Adhau, an expert in sports medicine and commanding a medical unit stationed at Delhi. And, he has been serving the nation on another front – COVID-19. From Kargil to COVID-19, this soldier-healer has been in service of motherland. 'The Hitavada' got in touch with this Kargil war hero, who was decorated with Sena Medal (Gallantry) for his bravery as Regimental Medical Officer (RMO) of 13 Jammu and Kashmir Rifles during Kargil War of 1999, on the eve of Kargil Vijay Diwas and he spared some time from his busy schedule, responding to questions for an interview. Col (Dr) Rajesh Adhau, who hails from Wardha district of Vidarbha, opened up on various aspects of his life and situation since Kargil War.
Here are the excerpts:
Q. You come from
a town in Wardha district of Vidarbha. Can you please provide us a brief glimpse of your journey from that town to Kargil heights to Delhi at present?
A. I was born and brought up in a small town Talegaon (Shamji Pant), popularly known as 'Talwar, Chhuri waala Gaon'. I completed my primary education from Talegaon, higher schooling from Lokmanya Vidyalaya in Ashti (Shahid), and Intermediate from Shivaji Science College, Amravati. I pursued my MBBS from Dr Panjabrao Deshmukh Memorial Medical College, Amravati, where I was involved in National Service Scheme (NSS) and got inclined towards services. Thereafter, I chased my dream and got commissioned as an Army Medical Officer and soon joined at Sopore, which was notoriously known as 'mini Pakistan'. Subsequently, I was fortunate to be a part of the brave Indian Army, which fought the Kargil War. At present, I am honoured to be commanding a medical unit stationed in Delhi. I am deeply inspired by the social service of Dr Panjabrao Deshmukh.This inspiration led me to my inclination towards national service and I joined Army Medical Corps. I was extremely delighted and proud to be a part of close combat while serving with jawans, who would fight against enemy, and saving their lives.
Q. As RMO at the icy heights during the Kargil War, what was the decision that you took and felt happy about?
A.
I used to brief the soldiers before heading on the assigned task that even if they got a bullet, they should not worry. I was there to save their life. Only thing, I advised to them, to do was keep breathing till I reached them. I was always on top to ensure that the soldiers who sustained injuries at the top got the treatment first. I had trained the soldiers who were on the lower side, in nursing. As it took 12-14 hours to take an injured soldier down the hill, we had made nursing arrangements at various heights. As a result, we could treat the wounded kind of on the spot and there were the lowest fatalities.
Q. During the Kargil War, you have had some painful experiences while treating the soldiers who fought Pakistani intruders bravely and won back the difficult heights. Can you please share one or two such experiences?
A. During those 55 days of Kargil War, I treated numerous wounded and critically injured soldiers, who fought tirelessly. I remember each and every casualty in the war zone. While attending to my jawan who had broken knee, one Pakistani artillery shell landed directly near us. Due to the shelling, a Pakistani soldier's body landed near us and hit me suddenly. I evacuated all the wounded and thanked God that they all were alive. I recall association with Captain Vikram Batra and Major Ajay Singh Jasrotia, who both laid down their lives for the motherland. I was totally shocked and speechless when I lifted the lifeless body of Captain Vikram Batra. I cannot express those feelings in words. Major Jasrotia had sustained severe injuries in a grenade blast along with six of his men. Regardless of his own injuries, he helped evacuate his six injured men for medical care so that they could be saved. But, he succumbed to injuries. One of my jawans reported to me with hand on his face. His clothes were soaked in blood. I asked him, "Where are you injured?" But he was not talking. He was in intense pain. I examined him thoroughly but could not find a wound. When I finally removed his hands from his face, I was shocked to see that a bullet had hit his nose, and there was just a big hole in place of nose.
Q. Many soldiers face trauma after the war. How did you cope with the trauma of war after Kargil action and challenges faced?
A.
Generally, positive attitude and constant motivation from the unit and support from seniors helps a jawan to cope with the traumas of war. I never come across soldiers affected by post-trauma psychological problem as they were extremely motivated.
Q. Family is a big support system for any soldier. What did your family say when they learned about the situation you went through during Kargil War?
A. I always seek motivation from my parents and teachers. My parents have always been a constant source of inspiration for me. Just before the war, I had told my mother, "Your son is very much proud. You should also feel proud if I come back alive or wrapped in Tiranga."
Q. Since Kargil War, do you feel the situation regarding military healthcare has changed?
What are the major changes, according to you?
A. Since Kargil War, there have been numerous changes in our medical and healthcare facilities. Nowadays, there is a paradigm shift towards on-site administration of First Aid. Earlier also, we had given importance to the 'Golden Hour' principle of casualty management. War injury management is a Herculean task but some good initiatives have been taken.
Q. Being a Sports Medicine specialist and a member of NRRT, what do you feel about India's participation in Tokyo Olympics?
A.
Meerabai Chanu has made history by winning a silver medal in weightlifting. Talking about Olympic Games, I am sure our athletes will prove their metal and give their best in efforts. Being a Sports Medicine specialist myself, I am confident about the training of our athletes. I am sure and optimistic that our team will bring laurels for the country.
Q. A soldier, a healer, a sports enthusiast, an adventurer... Which is the next cap you wish to wear?
A.
I wish to express my desire to keep serving mankind till my last breath. Those who are needy can approach me any time and I would love to help them in any possible way. Jai Hind! n