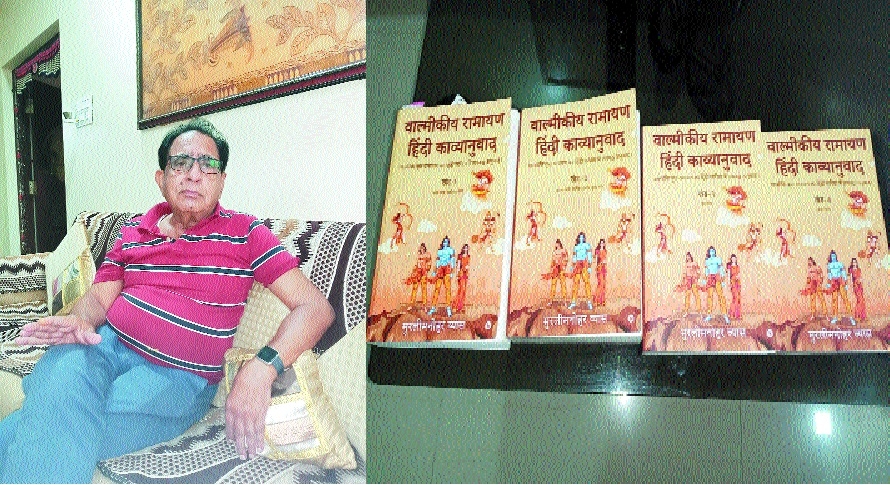 By Rajendra Diwe :
A leading lawyer, politician and trade union leader, 78-year-old Adv Murli Manohar Vyas, who translated ancient Valmiki Ramayan in Hindi in poetical format -- 'Ramayan Hindi Kavyanuwad', shared his spiritual transformation
"Lord Rama is 'Yug Purush' in real sense. He is the epitome of spirituality. No other figure, character or legend would have an impact on any civilisation as much as Lord Rama in India. From the ancient period to the current age, Lord Rama's thoughts, ideas, philosophy and wisdom have been a guiding light for generations of this country. With his grace only, I am able to translate the Valmiki Ramayan, the ancient text written in Sanskrit by Sage Valmiki, into a very simple Hindi language for common people," said Adv Murli Manohar Vyas, a senior lawyer from Hinganghat, while talking to 'The Hitavada' on Sunday.
"The oldest Ramayana is composed in Sanskrit poetry by Sage Valmiki. Based on it, but not it's translation are Ram Charit Manas by Tulsidas in Awadhi, Ramayana by Kanva in Tamil etc. I think, I am the first to translate Sanskrit poetry shlok by shlok into precise and appropriate Hindi poetry. As birds are made to fly and rivers to flow, so the soul follows duty. Ramayana by Maharishi Valmiki still remains as a living force in the lives of every Hindu in India. Without disturbing the original format, poetic expressions and flow of Sanskrit hymns, I have tried to translate it in simple Hindi language easily understandable to common person," said Adv Vyas, the author of 'Ramayan Hindi Kavyanuwad'. Sharing his life journey, the 78-year-old lawyer, said, "I had completed law and received Sanad on September 4, 1969.
I was associated with late Jambuwantrao Dhote and supported Vidarbha Movement. I worked as a trade union leader, and later joined Congress. From 1974 to 1981, I was a President of Hinganghat Municipal Council. The incident of demolition of Babri mosque on December 6, 1991, was a turning point of my life. I was really shaken from inside and my spiritual journey was started by the grace of Lord Rama." Adv Vyas recited the verse from book 'Ramayan Hindi Kavyanuwad' first volume which explains the dialogues of Maharshi Jabali with Lord Rama. He said, "Maharshi Jabali was the first rationalist of ancient India. When Maharshi Jabali accompanied seven Rishis who went with Bharata to meet Lord Rama in Chitrakoot, Lord Rama discussed Dharma with Maharshi Jabali as -- 'Just as people are afraid of serpents they are afraid of people who utter lies.
Truth controls this world and Dharma is rooted in truth.' I started thinking about the truth that controls the world. Also I had developed an interest in writing and started writing poetry." Sharing how he began with the big task and the response he received to it, Adv Vyas said, "When I had started translating Valmiki Ramayan in Hindi, my poet friend Rafiq 'Asar' Sahab guided me about the laya, gaati, bhaav, vyanjan, raas and alankar of Hindi poetry. My other friend Shivprasad Bagdi, who was a poet par excellence, had guided me. I started translating the same in 1992 and after three consecutive efforts, the Hindi version of Valmiki Ramayan in the form of four volumes got published in 2020.
Notion Press from Chennai which is India's leading self-publishing platform has published the Valmikiya Ramayan Hindi Kavyanuwad by Murli Manohar Vyas, a shlok-by-shlok translation of the Ramayana, originally written in Sanskrit by Valmiki. These volumes have foreword by Tamil Nadu Governor, Banwarilal Purohit and Rameshbhai Ojha. Both have mentioned, "Ramayan Hindi Kavyanuwad is a delightfully-straightforward, rhythmical, and lyrical retelling of the ancient Indian epic that centres on loyalty, betrayal, redemption. It offers a true insight into the real nature of life. Murli Manohar Vyas renders one of the history's most sacred ethical works with completeness and sterling accuracy for the modern Hindi reader." On the speciality of the book Adv Vyas said, "I dedicate the book to my beloved wife Leela who throughout her life continued inculcating the principles of Lord Rama in me, who was like Ravana earlier. Her penance is continuing even today."