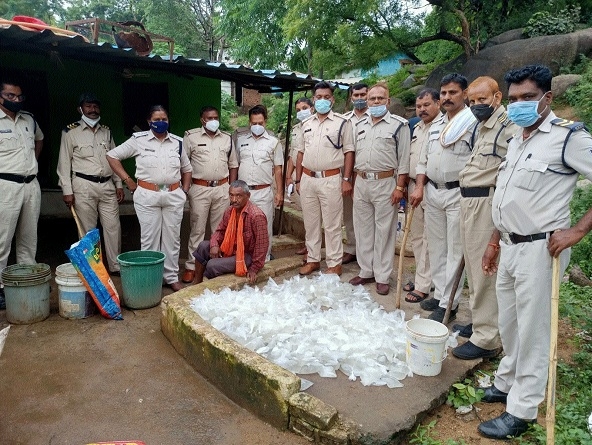 Excise team during raid on illegal kiln of country-made liquor in Ghamapur.
Staff Reporter ;
The Excise team seized 150 litres illegal stock of liquor and destroyed 200 kg raw materials in a raid at a house in Chandmari Ki Tallaiyya in Ghamapur, on Tuesday evening. The accused has been identified as Rajkumar Kuchbandhiya, son of Chironjilal Kuchbandhiya. Excise Control Room, In-charge, GL Maravi informed that under the direction of Collector, Karmveer Sharma (IAS) excise team started a special campaign against illegal production and trade of liquor under the supervision of Assistant Excise Commissioner, SN Dubey. During the campaign, Excise Department received information about operation of illegal kiln at a house situated in Ghamapur. Taking action on the information, the team raided identified house and busted an illegal of country-made liquor.
In the raid, excise teams seized 150 litres illegal stock of country-made liquor and destroyed total 200 kg of raw materials. Excise Department registered a case against the accused Section 34(1)A and Section 34(C) of Madhya Pradesh Excise Act 1995 while further investigations are underway. Raid was conducted by team led by GL Maravi comprised of Assistant District Excise Officer, GD Lahoria, Ramji Pandey, Indrajeet Tiwari and others.