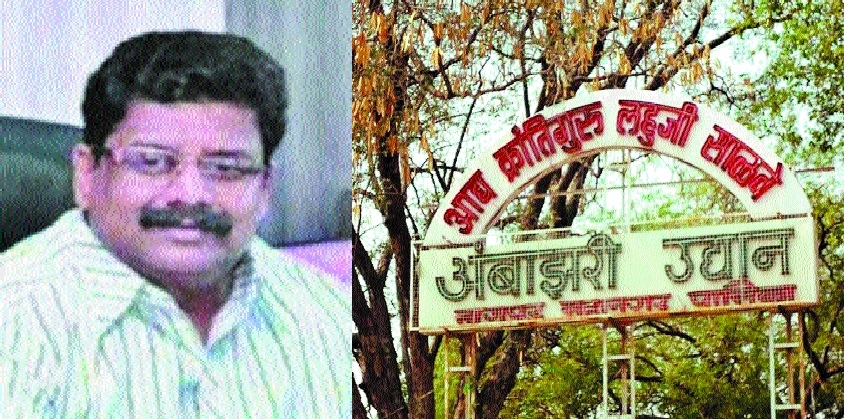 Principal Correspondent :
NIT warns action against agency for building wall near Ambazari garden
MLA and Congress City President Vikas Thakre raised the issue in NIT meeting
Acting on the suggestion placed by Vikas Thakre, MLA of West Nagpur and President of Nagpur City Congress, during a meeting of Nagpur Improvement Trust (NIT), the Chairman Dr Manojkumar Survanshi has sent a notice to the agency that constructed a security wall near Ambazari garden. In a tersely worded letter Chairman has warned the agency to remove the construction near the garden else NIT's squad will take appropriate action. The cost of removal would be recovered from the agency. He has also asked Maharashtra Tourism Development Corporation (MTDC) to hand over the land near Ambazari garden to NIT immediately.
Thakre had pointed out in the meeting, "The 44-acre land adjacent to Ambazari Garden and lake, owned by Government, was given to Maharashtra Tourism Development on rent in the year 2017. Messers Garuda Amusement Nagpur Private Limited was appointed as Developer. While developing the agency has chopped several trees near the lake. There was Dr Ambedkar Bhavan which too was broken. It has installed the barricades around lake and garden premises and prohibited the entry of people into the garden. The action regarding this should be taken immediately." Thakre also brought to the notice of NIT that the light and sound show near Vivekanand Memorial was being looked after by Nagpur Municipal Corporation (NMC). The project was proposed by NIT and NMC had issued No Objection certificate. In the meantime Ambazari garden was given to MTDC on rent. Obviously NIT had to seek the No Objection from MTDC for which it repeatedly asked for. MTDC issued it and asked Nagpur Metropolitan Regional Development Authority (NMRDA) to develop, operate, manage, maintain the project under certain conditions. Thakre said in the meeting that MTDC had hurt the feeling of Nagpurians.
Now NIT should develop the land near Ambazari garden and lake. Accordingly, Dr Suryavanshi has place the proposal according to which MTDC should handover the land to NIT. NIT will develop the place as tourism spot and provide facilities to people without charging a single penny. NIT will give Rs 3 crore every year to MTDC. NIT has also made it clear that the security wall created on the road between Dharampeth Science College T Point and Ambazari garden, garden to Ambedkar bhavan, Ambedkar bhavan to FDCM, Dharampeth Science college to university campus has to be demolished. If the agency fails to do so, NIT squad would remove the construction, warned NIT Chairman Dr Manojkumar Suryavanshi.