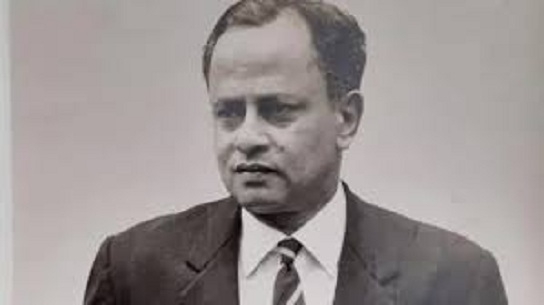 GRACE was his style, his signature -- in the sense it was deeply embedded in his being, ingrained in his psyche, glowing from within! When he stopped playing, sporting arena became bereft of one real master of class, only rarely replaceable by some other personage of equal or greater elan. Now that he has slipped behind the curtain of death, Mr. Nandu Natekar, the legendary badminton superstar of yesteryears, will be missed forever. When he played for India, he left his indelible imprint on the world -- winning numerous international titles, in the process becoming World Number 3, besides the national titles and honours. Each badminton court, each badminton player in the country, is condoling his demise. However, it would be a dishonour to describe Mr. Nandu Natekar only as a badminton great. He was far more than that. For long years, he represented the world's best in any discipline. In the process, Mr. Natekar promoted certain philosophy of sports -- as an extended expression of the human urge to excel in whatever the individual sought to do. That thought dominated his being all the time. It added certain grace, certain stylishness, certain poetic emotion and motion to his movements. Effortlessly he moved on the court, gliding across from corner to corner, easing into the centre, anticipating the rival's shots without rush or haste, offering a counter to every move by the player on the other side. In this effort, finally, badminton racquet became his brush with which he painted a picture of ever-lasting excellence. But as he did that, the country and the world missed one potentially great tennis player. Yes, Nandu Natekar started his sporting career in tennis, reaching the junior national singles final against what came to be known as a legend, Ramnathan Krishnan.
Destiny willed Natekar's defeat in that very closely fought match. And that was the moment the world had the first glimpse of personification of grace. Without being bitter, without being distraught, Nandu Natekar shifted to badminton, leaving tennis to Ramnathan Krishnan. And, before he was 20 years old, he was already a name to reckon with internationally in badminton. India, thus, got two legends striding on the courts of two disciplines at the same time -- each one as tall as a Himalayan peak, and as bright and immovable by anything adverse. For years, Natekar in badminton and Krishnan in tennis scripted India's parallel story in sporting greatness! Nandu Natekar's story belongs to an era where gentlemanliness was the core of sports -- in all disciplines. In badminton, Natekar's creativity crafted an entirely individualistic style that none could even think of copying. His serves, his smashes, his back-hand returns, his footwork, his glance-shots and racquet-nudges became his multiple signatures, unique, special and totally authored by him. So, he always glided onto the court, waltzed around during play, smiled benignly even when he got beaten occasionally, and invariably bowed to the referee and the rival without exception, no matter the outcome of the match, and purposefully strode out to his chair in the side aisle. (No storming onto the court. No punching the air. No grunting and shouting and swearing).
That was the quintessence of sum and substance of Nandu Natekar's personality. An undisturbable calmness was psycho-physical condition Nandu Natekar created for himself as a cocoon of protection against even a hint of negativism. As he played in innumerable tournaments around the world throughout the year, as he led India in Thomas Cup, as he reached the Quarter-Final stage in the prestigious All England tournament in his debut in 1954, Nandu Natekar never allowed himself the nefarious luxury of uncontrolled emotion. His ever-green smile came from that mental make up that made him an autonomous person who did not need external stimulus to excel, or who was never disturbed by extraneous considerations. Only a person of absolutely well-defined sense of self-worth can achieve such equanimity.
That was the secret of his eternal motivation. Of course, this is true for all sportspersons, as some may argue. May there be no debate on this issue. But in Nandu Natekar's case, all these were not mere words; they were facts of his very successful sporting career, not attached by others from outside, but stemming from an inner source of spiritual strength. Of course, the country honoured him with the first-ever Arjuna Award for excellence in sports. But Nandu Natekar deserved many more honours -- that are now so abundantly available to sporting icons. But that did not bother him. In an interview, he said, in effect, that playing badminton well was his ultimate definition of personal honour, and playing for the country was all he wanted to do in life. 'I never play for myself. I play for the country's honour,' he had said. When Nandu Natekar was rising on the horizon and stayed high up there at the peak of excellence for long years, India was emerging from chains of slavery.
The larger Indian society was looking for iconic personalities to cheer itself up. Many stalwarts provided that kind of socio-spiritual impetus so much needed in those times. Nandu Natekar was among those icons who led India's greater cultural renaissance. He passed away at a time when the country needed him most -- as India has become a world power in badminton. He might not have played an actual role in this transformation physically, but Nandu Natekar remained an integral part of the nebula of national inspiration, in badminton and also in other sports. His signature in Indian sports cannot be erased. His imprint on international sporting scene cannot be missed. He breathed his last owing to old age when the world is basking in the intense Olympic fervour. Still despite that din, his quiet passing away sounded the condolence bell. He passed away a satiated person, having served his own and his country's cause so well. Of course, Nandu Natekar did not go away just like that. He created another sports champion -- the tennis ace Gaurav Natekar who won national titles as many as six times. After winning a match, it was Gaurav who had said with misty eyes that his father provided him with constant inspiration and eternal motivation. For Indian sports in general, too, Nandu Natekar played that role -- as a permanent motivation to generations of players in all disciplines, in a fatherly manner!