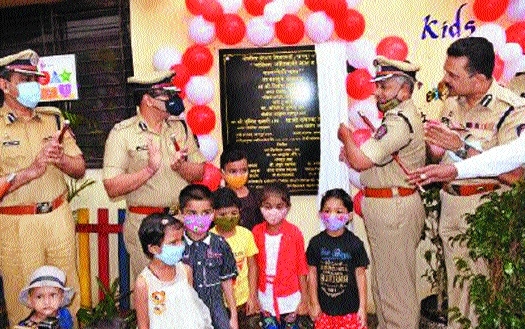 Additional CP (North Region) Dr Dilip Zalke unveiling a plaque to mark inauguration of child-friendly room at Sitabuldi Police Station. Commssioner of Police Amitesh Kumar and other senior police
officials look on.
Staff Reporter :
ADDITIONAL Commissioner of Police (South Region) Dr Dilip Zalke inaugurated the newly set up 'Balsnehi Kaksh' (child-friendly room) at Sitabuldi Police Station on Friday. Commissioner of Police Amitesh Kumar was the chief guest. Additional Commissioners of Police Sunil Fulari (Crime) and Navinchandra Reddy (North Region), Deputy Commissioners Vinita Sahu (Zone-II), Nurool Hasan (Zone-I), Lohit Matani (Zone-II), Dr Akshay Shinde (Zone-IV), Neelotpal (Zone-V), Dr Sandeep Pakhale (Headquarters), Vivek Masal (EoW), Basavraj Teli (Special Branch) and Sarang Awad (Traffic), Assistant Commissioners Trupti Jadhav (Sitabuldi Division), Sudhir Nandanwar (Sadar Division) and Senior Inspector (Sitabuldi) Atul Sabnis were prominently present.
People visiting Sitabuldi Police Station for any work or women complainants can keep their children in the room. Similarly, cops can also utilise the room for keeping juvenile delinquents for inquiry purposes. The child-friendly room was set up with the assistance of We7 Care Foundation and traders from Sitabuldi. The National Commission for Protection of Child Rights (NCPCR) had recommended that all police stations across the country should have a child-friendly corner or room decorated with colourful posters, appropriate furniture and CCTV cameras.
NCPCR had stated that it should be distinguished from other parts of the police station by means of colourful posters and separately maintained furniture so as to make the child feel as comfortable as possible. It had also recommended that an officer not below the rank of assistant sub-inspector with aptitude, appropriate training and orientation to exclusively deal with children (either as victims or perpetrators) be appointed as child welfare officer.