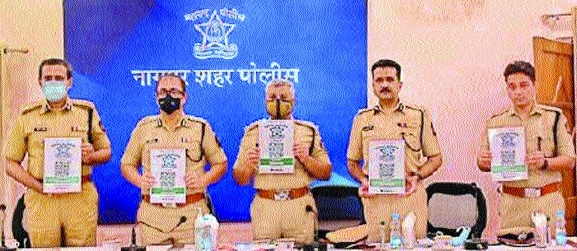 Commissioner of Police Amitesh Kumar launching the 'QR (Quick Response) Code e-Beat system' on Friday. Other senior police
officials look on.
Staff Reporter :
TO improve efficacy and bring transperancy in day-to-day administration, City Police have launched 'QR (Quick Response) Code e-Beat system' across the Second Capital. The bike-borne Charlie Commandoes will now complete their beat rounds on time and react to emergencies immediately. Using 'Subhahu App,' the e-beat system was formally inaugurated by Commissioner of Police Amitesh Kumar on Friday. It became operational in all areas with immediate effect. More than 1500 stickers of QR codes tags printed on water-proof paper were already placed in every police station area. Charlie Commandoes or beat marshals will now be the 'first responders' to any crime. The Charlie Commandoes will have to scan these QR codes with their cellphones.
As soon as the code will be scanned, the senior officers will get a confirmation. They will be able to track their movements through GPS. The Police Station In-Charge and other senior officers can also assign duties to the beat marshals. Using the App, police officers can monitor the movements of the Charlie Commandoes and confirm that all the beat points are covered. The new e-beat system functions online using real-time data fed into the server. Moreover, the supervising officers can access it anytime to check any delays in completing the beat.
No beat marshal can collect tags and scan them at office or home without going out on the beat. Earlier, the e-beat system was started on experimental basis in the police stations falling under Zone-I area. Considering the response time, it was implemented in all areas. Additional Commissioners of Police Sunil Fulari, Navindra Reddy (North Region) and Dr Dilip Zalke (South Region) and all zonal deputy commissioners were present at the inaugural function.