Forest Department officials with the accused and the seized tiger skin.
Staff Reporter :
The court grants forest custody to the accused till August 3
A team of Nagpur Forest Division conducted a raid at Bichwasahani village in adjoining state of Madhya Pradesh on Thursday night, and arrested one person on charges of smuggling of tiger's body parts. The team seized tiger skin, four tiger paws, and a mobile phone from the accused. The accused Motilal Keja Salame (55) is a resident of village Bichwasahani. The team of Forest Department officials recovered whole of tiger skin, four paws, and a mobile phone from Salame's residence. Salame has been booked under Sections 2 (16), 9, 39, 49, 43(A), 50, and 51 of the Wildlife Protection Act, 1972. The accused was produced before the court of Judicial Magistrate First Class, Saoner, in Nagpur district. The court granted forest custody to the accused, till August 3, stated Dr Bharat Singh Hada, Deputy Conservator of Forest, Nagpur Forest Division.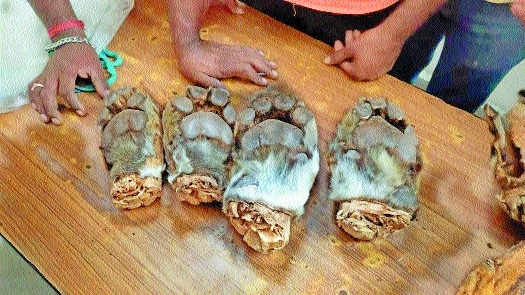 The seized paws of tiger.
The raid, arrest, and recovery operation was conducted under the guidance of Dr Hada, by a team led by Narendra G Chandewar, Assistant Conservator of Forest, Umred. The team comprised P N Naik, Range Forest Officer (RFO), Khapa; L V Thokal, RFO, Butibori; S B Mohod, RFO, Mobile Squad No 2, Nagpur; Dongre, Shende, Bhosle, staff of Khapa Forest Range. S T Kale, Assistant Conservator of Forest (Tendu and CAMPA), Nagpur, is guiding further investigations into the matter.