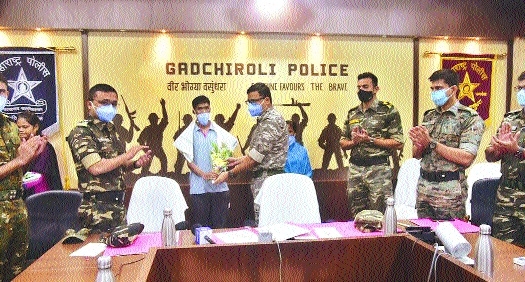 SP Ankit Goel felicitating wanted Naxal Vinod Boga for surrendering and joining the national mainstream.
District Correspondent :
GADCHIROLI,
A Naxal couple, carrying reward of Rs 8 lakh on their heads, surrendered before the police on Friday and were welcomed by Gadchiroli SP Ankit Goel. The surrender has come as a huge blow to the outlaws as it has happened just when Naxal Week is being observed by the outlaws. Vinod alias Maniram Boga (32) and Kavita alias Satto Kowachi (33) are the Naxals who surrendered before SP Ankit Goel. While Vinod is a resident of village Botezari in Korchi taluka, Kavita is a resident of village Gaudpal in Manpur taluka of Rajnan-dgaon district of Chhattisgarh.
Vinod was working as ACM in Korchi Dalam as Dalam doctor and his wife Kavita was working as party member in Tipagad Dalam. Many serious offences including 13 murders, 21 encounters, 1 arson and 5 others are registered against Vinod while 5 cases of encounter, 1 arson and 3 others are registered against Kavita, informed the police. A reward of Rs 6 lakh was declared by the Police for Vinod while Kavita carried a reward of Rs 2 lakh on her head. SDPO of Dhanora Swapnil Jadhao played an important role in the surrender of the couple. Between year 2019 and 2021 as many as 43 Naxalites have surrendered due to effective anti-Naxal operations conducted by the police.
Those who have surrendered so far include 4 DVC, 2 dalam commanders, 3 dy commanders, 33 members and 1 Jan militia. So far, 647 Naxalites have surrendered before the police. Total 127 of them have been distributed plots of land, 'gharkuls' to 107 Naxals, aadhar cards to 643, sewing machines to 36 women Naxals, goat rearing and other benefit to 23 Naxals, informed the police. The police will take stringent action against those creating obstacles in the developmental works, Dr Goel warned. At the same time, police is always ready to extend all the necessary help to those who wish to give up arms and surrender before the police and join the mainstream of development, said Goel and called upon Naxals to give up the way of violence and surrender.