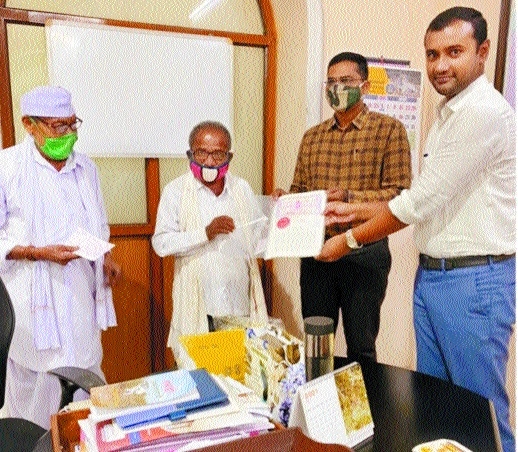 Forest Department officials giving agreement copy to farmers.
Staff Reporter and Chandrapur Correspondent :
Officials claim that 'Community Nature Conservancy' is the first-of-its-kind initiative in the country
In what is being termed as the first-of-its-kind initiative in the country, Tadoba-Andhari Tiger Reserve (TATR) management has entered into 'Community Nature Conservancy' (CNC) agreement with owners of private land parcels and added an additional 104 acres of area for wildlife management. TATR Conservation Foundation and private land-holders (23 farmers) entered into the CNC agreement for a period of five years.
The compensation for not cultivating the land and not causing damage will be paid to the farmers in the month of July every year. According to Dr Jitendra S Ramgaokar, Conservator of Forests and Field Director of TATR, Chandrapur, State Forest Department has outlined a policy of CNC for farmers having their agricultural land close to forest areas. Under the policy, there is provision for farmers to enter into agreement with Forest Department for making their land available for wildlife management in return for annual financial compensation without change of ownership. "Under this policy, TATR Conservation Foundation, has entered into an agreement with owners of private agricultural land -- Survey no 325 (38.37 hectares) and Survey no 30 (3.81 hectares) -- to the extent of 104 acres, in village Mudholi. The identified land parcel is part of prime corridor for movement of tigers and connects Katezari, Ghosari, Katwal of buffer area to Chicholi block of Warora range of Chandrapur forest division," said Dr Ramgaokar.
Interestingly, the important waterhole 'Budukdev' also falls in this private land. Hence, proper protection and wildlife management will be done by TATR administration. The private parties agreed to keep their land without cultivation, not to cause any damage to the land, and allow free wildlife movement. In return, the private land-holders will be compensated with an amount of Rs 5,000/- per acre per annum for not cultivating or damaging the land and allowing wildlife to prosper. The land-holders may get additional benefit due to some small eco-tourism activity or stay facility on the land after tri-partiate agreement between land-holders, TATR Foundation and private eco-tourism investor, read an official statement issued by Dr Ramgaokar. Forest Department will take care of habitat management and wildlife conservation. TATR administration will carry out habitat improvement works like meadow management and waterhole management on the said land. TATR is known as one of the best tiger reserves in the country, in terms of tiger population and biodiversity. Of late, Chandrapur district has been in news for man-animal conflict.
Several efforts are taken to step up conservation efforts in buffer area. The CNC initiative is part of conservation and wildlife management efforts. Meanwhile, TATR has been getting some aid from various agencies. ICICI Foundation has extended support to wildlife protection efforts in TATR. On the occasion of Global Tiger Day, ICICI Foundation for Inclusive Growth provided two Bolero Camper forest patrolling vehicles to TATR administration. Already, the Foundation has entered into a Memorandum of Understanding with Forest Department for development and operation of livelihood skill development academy at Pangadi in Sindewahi tehsil of Chandrapur district. The academy shall be imparting livelihood skills to villagers in Chandrapur district, especially in five villages in forest areas. The vehicles received as support from the Foundation shall be deployed in field for patrolling and forest protection works.