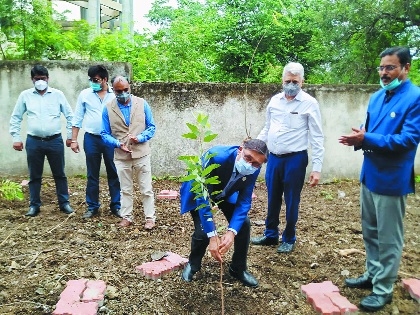 Business Bureau :
The Butibori Manufacturers Association (BMA) recently celebrated Green Day with great fanfare. The association has planned to develop a 'Miyawaki theme biodiversity' forest and 1 km long Gulmohar trees street. The event was powered by Calderys and SMS Group. The project aims to create awareness in industrial fraternity towards ecological balance and also to make Butibori clean and green. Chief guest of the function Dr P Anbalagan, CEO MIDC, inaugurated the event and showed great enthusiasm towards the unique programme.
Dr Anbalagan has granted land for the plantation on fast track basis and on top priority. Butibori stakeholders are overjoyed with the special affection that CEO has displayed towards MIDC Butibori. Dr Motghare, Joint Director, MPCB also addressed the audience and motivated the participants to increase green cover. Rajesh Zanzad, Chief Engineer, MIDC; Ashok Kare, Regional Officer, MPCB, Tidke, EE - MIDC: and others were also present on the occasion. Ish Mohan Garg, MD, Calderys; and Param Sancheti, MD SMS Group; are prime sponsors of the programme. All the dignitaries also planted saplings to mark of beginning of the project.
The project was developed under the guidance of President BMA Pradeep Khandelwal. Shashikant Kotharkar, Secretary, Dr Malviya, VP BMA and project head, Nitin Gujjelwar, Nitin Lonkar, Vijay Agrawal, Ajay Gupta, Shashin Agrawal, Hitesh Agrawal, Sanjay Nagulwar and Ishaan Goel were also present.