Strengthen road, rail network with modern technology, mutual cooperation: Thackeray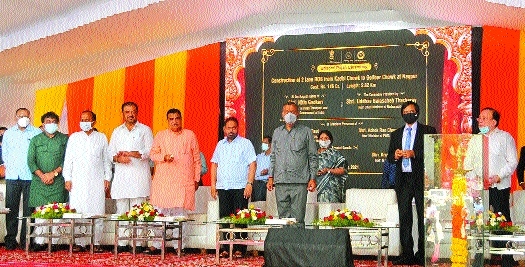 Union Minister Nitin Gadkari performing bhoomipujan as State
ministers Nitin Raut and Sunil Kedar, Mayor Dayashankar Tiwari, MP Krupal Tumane, MLAs Vikas Kumbhare and Raju Parwe and others look on.
Staff Reporter :
Chief Minister Uddhav Thackeray presided over the bhoomipujan ceremony of the multi-crore ambitious flyovers, on-line on Saturday
"Modern technology should be used while repairing the infrastructure damaged during the recent floods, and constructing new roads that will last for many generations. The State and Union Government will work in tandem for high quality infrastructure," said Chief Minister Uddhav Thackeray during the bhoomipujan of the multi-crore ambitious flyovers in Nagpur and Nagpur-Nagbhid railway line, on Saturday. Thackeray asked Union Minister Nitin Gadkari to help the State in making quality roads with modern technology. Earlier, Gadkari performed bhoomipujan of the three-kilometer-long railway flyover to be constructed at a cost of Rs 146 crore, connecting Kadbi Chowk with Golibar Chowk in North Nagpur. The programme was organised by Maharashtra State Railway Infrastructure Development Corporation Limited (MahaRail).
The programme was presided over by Uddhav Thackeray through video-conferencing. Nitin Gadkari, PWD Minister Ashok Chavan, Energy Minister Dr Nitin Raut, Animal Husbandry Minister Sunil Kedar, Mayor Dayashankar Tiwari, Ramtek MP Krupal Tumane, MLAs Vikas Kumbhare, Raju Parwe, Krishna Khopde, Mohan Mate, MD MahaRail Rajesh Kumar Jaiswal, District Collector R Vimala were present. Along with bhoomipujan of the Kadbi Chowk-Golibar Chowk flyover, the dignitaries also performed bhoomipujan of four flyovers on Nagpur-Nagbhid railway line -- Kalamna market, Bhandewadi, Umred and Umred-Bhiwapur bypass. On the occasion, Thackeray appreciated the initiative taken by Gadkari for the mega construction work. "Mumbai and Nagpur are getting closer with construction of Samruddhi Mahamarg," said Thackeray. He appealed to the authorities concerned to take care of wildlife and general public during construction of the mega projects. "Use an elevated path in the forest wherever possible while constructing Nagpur-Nagbhid broad gauge so that there will be no loss of wildlife and forest resources," the Chief Minister cautioned. Addressing the gathering, Union Minister Gadkari mentioned the cooperation received from all political parties and leaders for the project.
The assistance rendered by the Energy Minister Raut is remarkable, he said and clarified that encroachment would not become a hurdle while carrying out large-scale development works in North Nagpur. The broad gauge railway line from Nagpur to Wadsa will be completed. Gadkari also said that he would try to complete the four-lane road from Umred to Bhiwapur if the objections of the Forest and Environment Department were met. It used to take 20 to 22 hours to supply coal to power projects in Vidarbha. After completion of the project, it will take just two hours for coal transportation to power projects, he said. PWD Minister Chavan appealed to Thackeray and Gadkari to connect the Samruddhi Mahamarg from Jalna to Marathwada. Speaking on the occasion, Nagpur Guardian Minister Raut said that Nagpur has a culture of cooperation in development work and he has made efforts to get the green signal for Nagpur Metro. Animal Husbandry Minister Kedar said that, the farmers will not be troubled while constructing roads and railways. Nagpur Mayor Tiwari also addressed the gathering. MahaRail MD Jaiswal gave the introductory speech and thanked the audience while Renuka Deshkar compered the event.