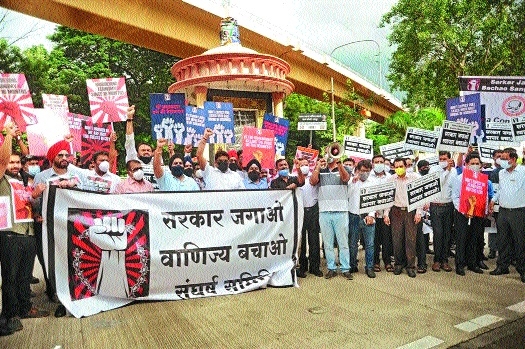 Traders, hoteliers and restaurateurs registering protest against restrictions on business hours.
Principal Correspondent :
The people of Vidarbha are getting step-motherly treatment as far as COVID-19 pandemic lockdown is concerned. Cities like Mumbai and Pune are registering more single-day coronavirus cases than those being reported in Vidarbha cities. Daily cases of COVID-19 in Nagpur are reported in single digit still the State Government is undecided on complete unlock. The government and local administration need to immediately withdraw lockdown and provide relief to traders. Hoteliers and restaurateurs are bearing major impact as their peak business hours start from 7 pm onwards upto 11 pm. Since long the government has fixed 4 pm as the closing time for all the business establishments on weekdays and complete closure on weekends. According to the hotelier they are bearing huge losses as they don't get much business till 4 pm. State Government is considering to allow hotels to remain open till 8 pm. But it is yet to decided on it. According to T S Renu, President of Vidarbha Taxpayers' Association (VTA), till 8 pm formula would yield no result.
"The hoteliers and restaurateurs should be allowed to remain open at least till 11 pm which will relatively help them," he said while talking to 'The Hitavada'. In a Cabinet meeting held recently, Chief Minister Uddhav Thackeray himself had announced that some 25 districts would be allowed to relax restrictions but no notification in this regard was issued till now. According to the hoteliers, the government should plan the lockdown thoughtfully. For example, it has not allowed all the business establishments to run beyond 4 pm. There are some businesses like hotels which can't be run during day time. A hotelier suggested, "The government should allow general shops to remain open till 4 pm and hotels from 5 pm till 11 pm. Because of daytime, we are not able to pay the salaries of our staff leading the major exodus of the trained staff. We found ourselves helpless in preventing them from leaving." According to one businessman, Nagpur comes in level one as far as COVID-19 norms are concerned. There are 60 working hours are allowed in level one city. Though Nagpur comes in Level -1 cities, the businesses it is not completing even full 30 hours. This is hampering businesses at large. According to another businessman, the new COVID-19 cases are rising in cities like Mumbai, Pune and in Western Maharashtra for which cities like Nagpur should not face any brunt. The businessmen from Nagpur, under the newly formed panel, 'Sarkar Jagao Wanijya Bachao Sangharsh Samiti', have warned State Government and administration of agitation. The agitation would be intensified, if the decision in this regard was not taken soon, they added.