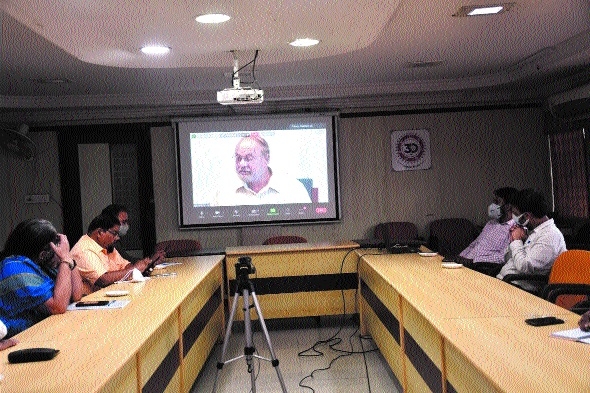 Eminent persons participating in MCNUJC programme, on Monday.
Staff Reporter :
Events to celebrate 'Azadi ka Amrit Mahotsav' commenced at Makhanlal Chaturvedi National University of Journalism and Communication (MCNUJC) with a special lecture on 'Overview of Freedom Movement'. On this occasion eminent archaeologist and historian Professor Makkhan Lal said that there is a need to see India's freedom movement in totality. He said that Netaji Subhash Chandra Bose and Azad Hind Fauj made a great contribution in getting India rid of the British. He said that the task of journalism is to bring forth the truth and talk about the unexplored aspects and heroes of the freedom movement.
The programme was presided over by Vice Chancellor Prof K G Suresh. Keynote speaker of the lecture Prof Makkhan Lal threw light on the freedom struggle from 1935 to 1947. He said that there is need to look at the history of India with honesty, impartiality and a new perspective. He said that when the Second World War was going on, there was a silence about India's independence but when Netaji Subhash Chandra Bose reached Germany and started efforts to make India independent, an atmosphere started forming in the country as well. He said that sad episode of Partition of India is also associated with independence. The background of partition should also be studied seriously. Mohammad Jinnah was not the only one behind partition, but a mentality behind it. Sir Syed Ahmed Khan, Allama Iqbal and Rehmat Ali played a huge role for separate Pakistan's demand. Prof Shrikant Singh said that there is a need to review the entire history of freedom struggle so that many untouched aspects can be passed on to the new generation. Public Relations Officer Lokendra Singh conducted and co-ordinated the programme, and a vote of thanks was proposed by Registrar Prof Avinash Vajpayee.