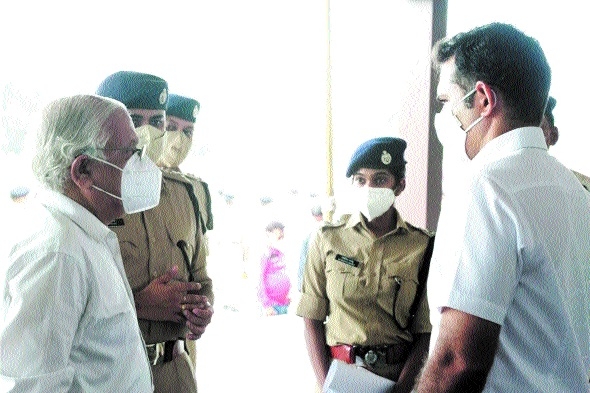 Divisional Commissioner Kavindra Kiyawat speaking to Collector Avinash Lavania during his visit to Motilal Stadium, on Monday.
Staff Reporter :
Divisional Commissioner Kavindra Kiyawat said that all departments should complete their works, distributed for Independence Day celebration, in time limit. He was taking stock of preparations being done in connection with Independence Day Celebration at Motilal Nehru stadium situated at Lal Parade ground on Monday. The Divisional Commissioner also held a meeting with concerned officers. On this occasion, Collector Avinash Lavania and DIG Irshad Wali etc were also present. He said that by seeing the present situation, there is possibility that the number of guests and people will be more in comparison to last year.
Hence sitting arrangement should be made accordingly. He directed that sitting arrangement should be done in sync with social distancing formula. He added that the Independence Day function will be celebrated with great fervor and exuberance. Kiyawat instructed the Municipal Corporation and the Public Works Department officials to make relevant arrangements pertaining to the rains by coordinating with each other. IG SAF underlined the necessary arrangements to be made. Revenue department officers, Officers of Public Works, Public Relations, Bhopal Municipal Corporation, SAF and Police, Electricity department etc, were present during the inspection.