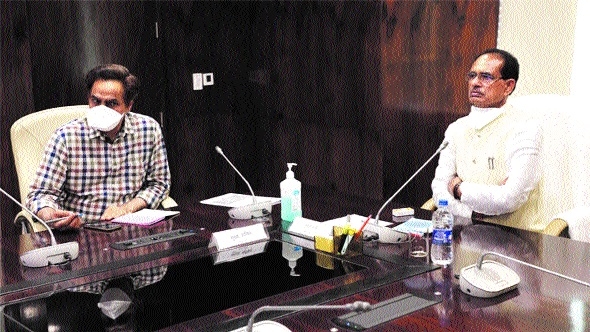 Chief Minister Shivraj Singh Chouhan chairing the meeting of flood relief task force committee on Monday.
Staff Reporter :
Chief Minister Shivraj Singh Chouhan has said that 8832 persons have been rescued and 32 000 persons have been shifted to safely to relief camps in the flood affected areas of the state. NDRF and SDRF teams deserve special appreciation for saving the lives of people by risking their own lives. The work of relief and rehabilitation of flood victims should be done with full readiness and dedication. Hand pumps should be repaired. All the 12 departments of the Task Force Committee should undertake relief and rehabilitation work on a war footing under the direction of the concerned ministers. He was taking a meeting of the task force committee of 12 departments constituted for flood relief in Mantralaya through video conferencing. He directed that the survey of the damage caused by floods should be accurate and transparent. It should be ensured that no affected person is left out and no ineligible person gets the benefits. Revenue Minister Govind Singh Rajput gave detailed information about the damage. Agriculture Minister Kamal Patel informed about the damage to crops. Home Minister Dr. Narottam Mishra informed about the rescue and relief operations.
Take special care of water hygiene The Chief Minister directed the Public Health Engineering Department to take special care for the cleanliness of drinking water in the flood affected areas. Water sources should be cleaned through chlorine etc. Hand pumps should be repaired. Minister Brijendra Singh Yadav informed that work of purification of drinking water, cleaning of debris and pesticide spray is going on. He said that an immediate relief of Rs 6 000 should be provided to those whose houses have been damaged so that they can do some repairs or make arrangements to stay elsewhere. After completion of the survey, an amount of Rs 1. 20 lakh will also be given for the house. He said that it should be ensured that every flood affected family gets 50kg of wheat or flour.