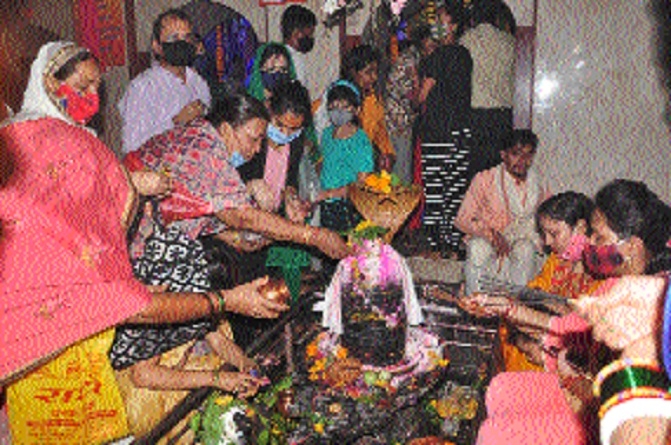 Devotees worshipping Lord Shiva at a temple on the third Shravan Somwar. (Pic by Anil Tiwari)
Staff Reporter :
The third Monday of 'Shravan Maas' was celebrated with the worship of 'Ardhnarishwar', an incarnation of lord Shiva and Parvati. Worship of lord Shiva in the most auspicious month of Sawan or Shravana month fulfil the wishes of devotees. The entire month is considered to be auspicious and Monday which is known as day of lord Shiva has special significance of his worship. All the temples witnessed throngs of devotees for worshipping lord Shiva while special worship programmes were organized at Gupteshwar Mahadev Temple, Badshah Halwai temple, Matamar, Pipleshwar Mahadev temple, Bade Shankar Ji at Ganjipura, Sharda Mandir, Patbaba Mandir while worship of a big idol of lord Shiva at Kachnar City was centre of attraction for devotees.
Besides this, senior saints conducted special worship of lord Shiva with chanting of ritual rhymes and Rudrabhiahsek. A large numbers of devotes performed worship of lord Shiva by making Parthiv Shivlings at the banks of river Narmada at Gwarighat, Tilwaraghat and Lametaghat. Pointing out the projection of third wave of COVID-19 pandemic, limited numbers of visitors were allowed at several temples and entry of devotees at Garbhgrah was prohibited at some of the temples. Teams of volunteers were deployed for maintaining social distancing and strict implementation of COVID-19 protocol.