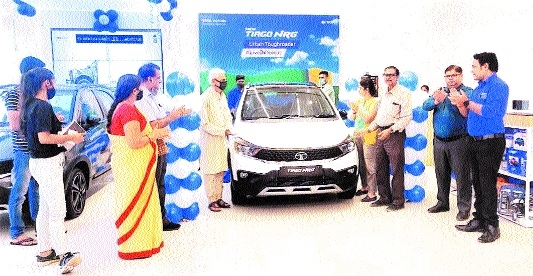 Guests and directors of Frontier Motocorp during launch of Tata Tiago NRG.
Staff Reporter :
New model of Tata Tiago NRG was launched at Frontier Motocorp at its Madan Mahal showroom. Tata Tiago NRD is the most prominent car of its segment. Chief guest on the occasion was Dr R K Mishra while Director, Anmol Wadhwa and Abhishek Wadhwa presided over the programme. Besides this, several other eminent residents and customers were present during the launch. Guest appreciated the reliable design and safety in Tata vehicles and latest technologies in its new cars. They also applauded the social works being made by the owners and directors of the company for welfare of society. Residents appreciated the exclusive features in new model of Tata Tiago.
Frontier Motocorp, Manager, informed that Tata Tiago NRG has been launched in two versions of manual and automatic. The new car has strong 1200 CC engine while special emphasis has been given on safety features of high standards. For this, the car has been accredited with 4-star safety rating by Global and Cap which has never been given to the other cars of this segment. The company has claimed its mileage upto 23.8-kilometres per litre. Sharma added that Tata Tiago NRG has been designed with 17.7 centimetre touch screen Harman Company music system with 4 speakers and 4 twitters. Two airbags are available for safety of travellers.
The car has been designed to fulfil the requirements of customers of urban and rural areas. Its 15-inches alloy steel with 181 mm ground clearance for driving on rough roads while push start system for convenience of customers. Shashikant Shyam was the first customer to take delivery of Tata Tiago NRG.