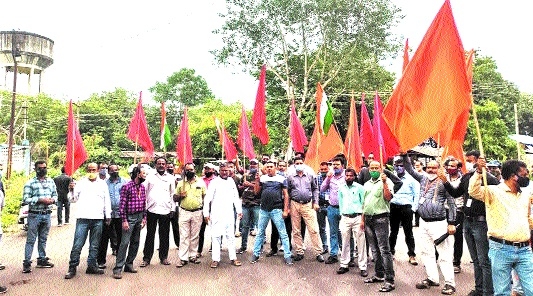 Employees staging demonstration in front of GCF.
Staff Reporter :
Trade unions staged a demonstration on the anniversary of the Quit India Movement and registered their protest against Essential Defence Service Act 2021 as 'Dhikkar Diwas' at Ordnance Factories, on Monday. National President of the All India Defence Employees' Federation (AIDEF), S N Pathak informed that the Quit India Movement was started during war of independence against British rulers on August 9. Similarly, on the call of Central Trade Unions, Dhikkar Diwas was observed throughout the country against Essential Defence Service Act 2021.
More than 4 lakh employees of ordnance factories under the banner of Bharatiya Pratiraksha Mazdoor Sangh (BPMS), Indian National Defence Workers Federation (INDWF) and AIDEF staged demonstration at their respective factories to condemn the enforcement of Essential Defence Service Act against the fundamental right of employees and workers for staging strike. A large number of employees and workers staged demonstration at Gun Carriage Factory (GCF), Ordnance Factory Khamaria (OFK), Vehicle Factory Jabalpur (VFJ), Grey Iron Foundry (GIF), Military Engineering Service (MES), Central Ordnance Depot (COD), EME and other defence establishments.