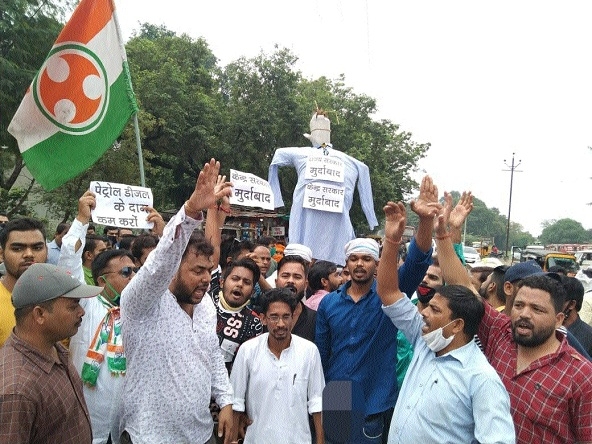 Youth Congress members staging protest against frequent hike in prices of petroleum products.
Staff Reporter :
In order to protest against the continuous hike in prices of petrol, diesel and other petroleum products, senior office-bearers and members of Youth Congress, on Sunday burnt the effigy of Central and State Government in Cantonment area and demanded the Government to roll back the increased price. Youth Congress leaders said that the Government has increased the prices of petroleum products to manifold in last few years. Instead of providing relief to citizens, who have already been facing countless difficulties due to covid-19 pandemic, the Government is breaking the backbone of poor and middle class people. The members demanded the Central Government to include petrol, diesel and other petroleum products in GST and provide relief of consumers.
They said due to increased prices by the petroleum companies, their earning in 2020-21 has increased manifold. The Government too has gained heavy profit. They said the cost of transportation has increased due to expensive petrol and diesel. It has also added to inflation and increased in price of everything in the country. Condemning the State Government for levying heavy tax on petroleum products, Youth Congress leaders demanded the Government to reduce tax and provide relief to the masses.
They said the State Government has failed completely to check petrol price rise, economic slowdown, widespread unemployment, cuts on allowances, ending jobs, skyrocketing inflation and other necessary commodities. Those participated in the protest were Mukesh Shrivastava, Atul Dongre, Vikas Yadav, Rahul Yadav, Sachin Tiwari, Shanu Thakur and others.