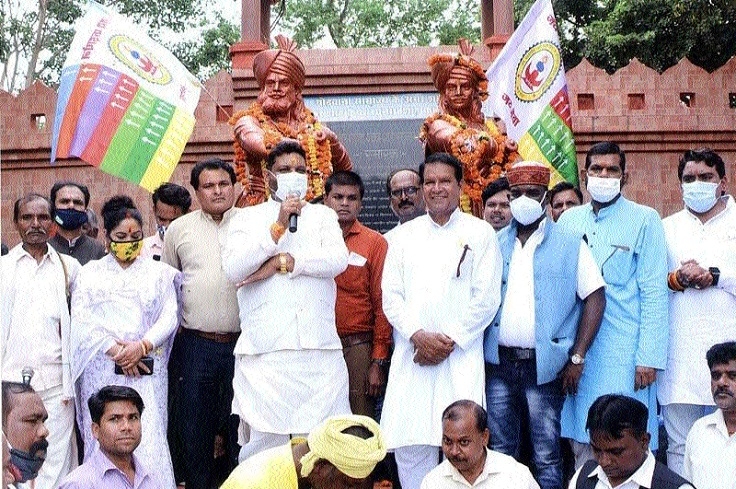 State President BJP Anusuchit Jati Morcha, Kailash Jatav and others paying tributes to Shankar Shah, Raghunath Shah.
Staff Reporter :
State President of Bhartiya Janta Party (BJP) Anusuchit Jati Morcha, Kailash Jatav, on Monday garlanded the statue of Shankar Shah, Raghunath Shah near Railway Station on World Tribal Day. Later, he also had lunch with tribal people who came from adjoining districts including Mandla, Beejadandi, Kundam, Shahpura, Dindori and Bargi. On the occasion, he acknowledged the tribal dance and songs presented by girls based on the tribal heroic moments. He said such activities help make the tribal culture prosperous. He said tribal people play important role in protection of water, forest and land.
They never harm nature and use it for their living. State President of Anusuchit Jati Morcha, Jatav further said that tribal people know the significance of nature for human being. Hence, they always worship land and forest. He on the occasion of World Tribal Day extended best wishes to everyone present on the occasion. Those also present were Santosh Jhariya, Rajendra Chaudhary, Jagesh Sanudre, Sanjay Domal, Akhil Sonkar, Ashish Ahirwar, Ravikant Balmik, Raja Chauhtel and Sharad Ben and others.