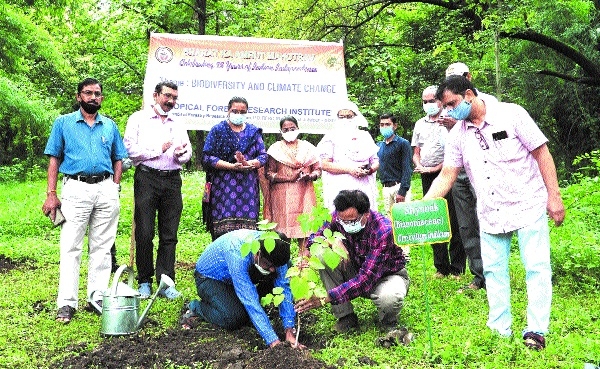 TFRI officials planting saplings at Botanical Garden as part of the Azadi Ka Amrut Mahotsava celebrations.
Staff Reporter :
Tropical Forest Research Institute (TFRI), Jabalpur celebrated 'Azadi ka Amrut Mahotsav', an initiative by Government of India to commemorate 75 years of progressive and the glorious history of it's people, culture and achievements. The 22nd week's celebration under the initiative was hosted by the Forest Ecology and Climate Change (FECC) Division of TFRI, Jabalpur during August 2 and August 8 on the theme Climate Change and Biodiversity to bring small local level changes under the initiative. This week-long celebration started with plantation of saplings at the Botanical Garden by the scientists and officers of the institute. Eleven tree species namely were introduced in the diversity of the garden. A visit to Insectary, Arachnarium and NWFP Garden was conducted for students and research scholars to introduce them with the activities of the institute.
During the third day, a webinar was conducted wherein the keynote speaker Dr C George Thomas, Chairman, Kerala State Biodiversity Board delivered informative talk discussing various global aspects of biodiversity and ecosystem restoration. Dr G Rajeshwar Rao, ARS, Director TFRI welcomed and expressed his gratitude towards Dr Thomas. He informed the house about importance of forests in mitigating the effects of climate change. Dr Avinash Jain, Scientist and Head, FECC division welcomed the participants and evoked concern for rising carbon dioxide level in the atmosphere and need for emergent steps for better tomorrow. Over 100 participants actively participated and thoroughly enjoyed various events of the Mahotsav.