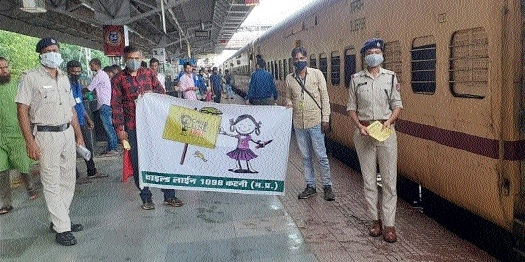 RPF personnel during awareness drive at Katni station.
Staff Reporter ;
In view of the possible third wave of Covid-19, Railway Protection Force (RPF) of Western Central Railway (WCR) is conducting awareness drive on a regular basis in Jabalpur, Bhopal and Kota divisions. In the series, Katni RPF of Jabalpur Division organised an awareness campaign for the passengers at Katni Station premises.
In the drive, the RPF personnel explained the passengers about the precautionary measures to be followed while travelling in train. For ensuring safety of passengers and their luggage, RPF personnel requested passengers to inform nearest RPF post or dial child help line number 1098. They assured the passengers that all possible help would be given to the passengers.