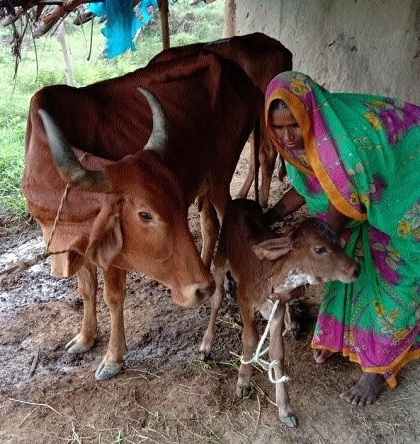 AT ITS BEST: A woman seen with the calf.
Our Correspondent :
AMBIKAPUR,
SURGUJA has become the first district of Chhattisgarh to innovate in the field of artificial insemination using sex-sorted semen technology. As a positive result of this innovation started in July last year, two cows artificially inseminated in the month of August have given birth to female calves. Under the guidance of Collector Sanjeev Kumar Jha, the Veterinary Department started the breed improvement programme by artificial insemination by American technology sex sorted semen in the month of July last year. So far, artificial insemination has been done in 200 cows of different villages falling under 7 development blocks of the district.
For this innovation, a budget of Rs 3 lakh was approved from Pashu Rogi Kalyan Samiti was given to Veterinary Department. The American technology has been patented by ST Genetics of America which supplies sex sorted semen to the whole world. In Surguja district, sex sorted semen has been procured from Livestock Development Board, Uttarakhand. Looking at the better results of technique, Collector has given it Veterinary officials to expand distribution further. In-charge of artificial insemination center Dr C K Mishra said that this is the first time such semen has been used by veterinary department in Surguja district and results are positive.
Through artificial insemination cows owned by cattle owners in Godhanpur in Ambikapur and Kesgwa village of Udaipur development block gave birth to calves. The technology has been provided at 75% percent subsidy to cattle owners to increase awareness among them. In technology, the male chromosome is separated from the semen and chances of giving birth to calf are up to 90% to 95%. The expansion of this technology in Surguja district can give a new direction to breed improvement and milk production. This will eventually make cattle breeders more interested in milk production. Dr Mishra told The Hitavada that two female calves were the initial results and results of 200 cows are to be seen.