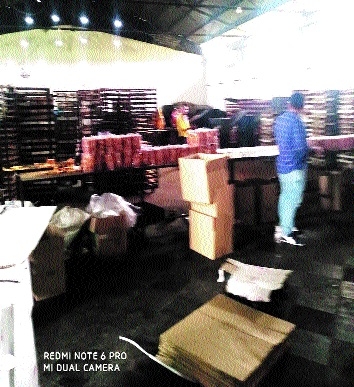 Golden Toast factory that was raided by the FDA team in Govindpura
Staff Reporter :
On the suspicion of adulteration, the district administration officials along with a team of Food and Drugs Administration (FDA) raided Golden Toast factory in Govindpura on Wednesday. As festive season is round the corner, the administration has turned stringent towards those involved in adulteration and has taken third such action in three consecutive days on orders of Collector Avinash Lavania.
A joint team of Tehsidar Huzur Chandrashekhar Shrivastava, Chief Food Safety Officer Arunesh Patel, and cops reached Golden Toast Factory on Wednesday evening. It may be mentioned that action on the suspicion of adulteration in food items, a notice under section-32 has also been issued after taking samples of toast, maida (All Purpose Flour), and soybean oil have been sent to the laboratory for testing. Taking another action, the investigation team has sent samples of cake, maida from Omni Confectionery at Govindpura for testing.