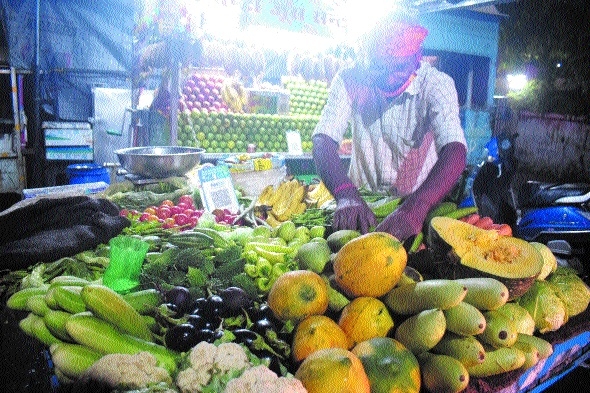 A vegetable vendor adjusting vegetables on his handcart in Bhopal on Wednesday evening.
Staff Reporter :
Even as supply of vegetables has increased but rates of vegetables remains on higher side. Most vegetables are being sold at the rate of Rs 60 or above it. The increased vegetable prices in retail market have left people in tight situation. Ladies finger, sponge gourd, beans are being sold at Rs 60 per kg. Likewise, green chilly are also costly. The only reprieve for people is this that tomato and potato, which are largely used in every house hold, are having some reasonable prices. Tomatoes are being sold at the rate of Rs 40 per kg while potato price are stagnant at Rs 20 per kg. As vegetable prices have caught the fire, common people always remains in dilemma which vegetable should be purchased and which should not be.
To maintain the kitchen budget, common people have adopted a very unique strategy. It has started to purchase vegetable in lesser quantity. Moreover, rates of other grocery items are also on higher side. The edible oil is the most costly commodity. The good quality of edible oil is having the price of around Rs 200 per liter. After petrol prices have touched the mark of Rs 100 per liter, the increased rates of grocery items and vegetables are literally giving harrowing time to common people. Even fruits have gone out of reach of common people as their rates have increased significantly.