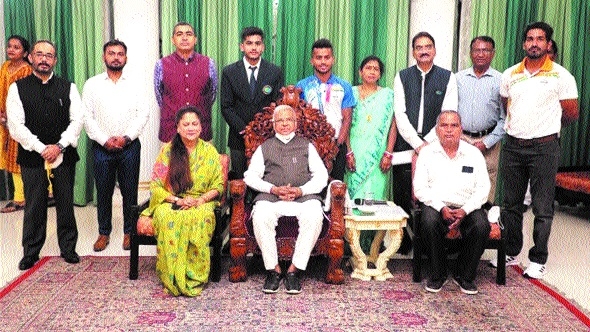 Govenor Mangu Bhai Patel and Sports Minister Yashodhara Raje Scindia posing for a group photo along players who participated in Tokyo Olympic at Raj Bhawan. On this occasion, Hockey coach, officers of sports etc were also present.
Staff Reporter :
Governor Mangubhai Patel has said that cooperation, discipline comes through playing and the confidence of getting success is generated through continuous efforts. Sports are very important in everyone's life. He has said that the attitude of the government and society towards sports has changed in the country. Governor was addressing the felicitation ceremony of Olympic players held at Raj Bhawan on Thursday. Sports and Youth Welfare Minister Yashodhara Raje Scindia, Hockey Coach Ashok Dhyan Chand, Olympian and Assistant Coach of Indian Men's Hockey Team Shivendra Singh, Olympic bronze medalist Vivek Sagar, Olympic participant shooter Aishwarya Pratap Singh and guardian officers of sports talents were present. Governor said that sports are very important for good thinking and better health in life. Participation is what matters, not the outcome of winning or losing in the game. Participation creates sportsmanship. Sport brings people together.
It strengthens the spirit of helping each other and cooperation. Sports are essential for a healthy body as well as mental development. Prime Minister Narendra Modi has promoted activities related to sports and fitness for better and healthy life of people, encouraged players a lot by filling them with enthusiasm. The Fit India Movement has created awareness towards fitness among the common people. Created a conducive environment for the development of sports. Today sports have started getting priority. New schemes and sports competitions are being organised. Schemes like Khelo India have created an atmosphere of enthusiasm. 'Sports for All' and 'Sports for Excellence' have been promoted. Young talents from the deprived and remote areas of the country are now getting new opportunities. Today we are all seeing the results of the initiative to focus on athletics, badminton, boxing, archery, wrestling and shooting for the Olympic Games.