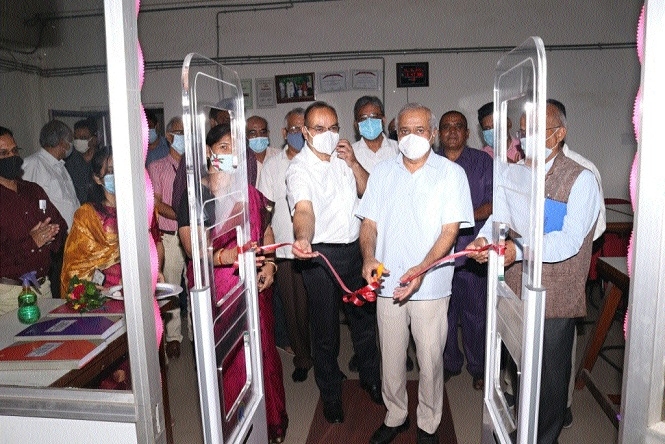 JKNVV Vice-Chancellor Dr Pradeep Kumar Bisen inaugurating the Radio Frequency Identification System in JNKVV.
Staff Reporter :
On the occasion of National Librarian Day, Jawaharlal Nehru Agricultural University (JNKVV), Vice-Chancellor Dr Pradeep Kumar Bisen inaugurated Radio Frequency Identification System (RFIS) in JNKVV's Central library on Thursday. Speaking on the occasion, Librarian Vinita Pandey said that students would be able to exchange books at the kiosk machine. Each book contains an electronic chip.
The electronic chip will helping preventing in preventing incidents of book theft. Assistant Librarian Pradip Dixit said that library is connected with Koha software and the books are accessible from anywhere. Moreover, tags have been added to 20,000 books. He added that agricultural thesis as old as students have uploaded 1964 on Krishikosh repository to facilitate easy access. Faculty of Agriculture, Dean Dr Amit Kumar Sharma, Registrar Revasingh Sisodiya, Director, Research Services Dr G K Kotu, Director, Farms Dr Deep Pahalwan, Executive Engineer SS Gaur and staff members were present on the occasion.