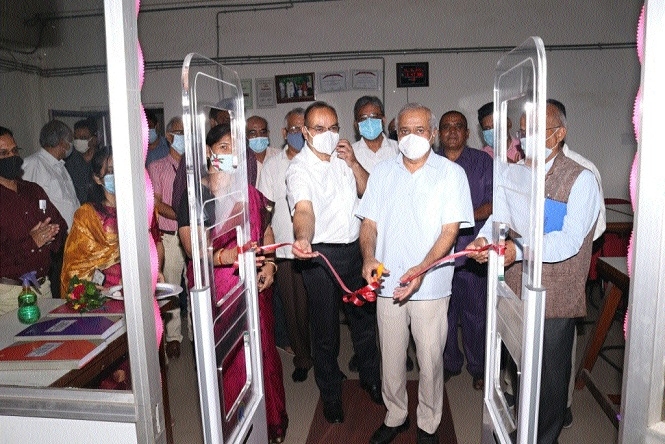 JKNVV Vice-Chancellor Dr Pradeep Kumar Bisen inaugurating the Radio Frequency Identification System in JNKVV.
Staff Reporter :
For achieving the target of cent-percent vaccination of staff members of Jawaharlal Nehru Agricultural University (JNKVV), Vice-Chancellor Dr Pradip Kumar Bisen felicitated the vaccination team with a certificate on Thursday at JNKVV campus. Notably, a two-weeks vaccination program titled 'Covid-19 vaccination session' was organised in the guidance of Vice-Chancellor Dr Pradip Kumar Bisen at JKVV. The vaccination session was organised on the call of Governor Mangubhai Patel.
The felicitated vaccination team include- Chief Medical Officer Dr Ratnesh Kuraria, Dr Dheeraj Gawande, District Tuberculosis Officer, Medical Officer Dr Amit Yadav, Medical Officer, Dr Akansha Chaudhari, Supervisor Virendra Sharma, Ranjana Kureel, Sagar Damar, Sita Goswami, Rajni Vishwakarma and Shashi Chourasia. Students Welfare, Dean, Dr Amit Kumar Sharma said that all the staff members of the University are vaccinated. Faculty of Agriculture, Dean Dr Amit Kumar Sharma, Registrar Revasingh Sisodiya, Director, Extension Services Dr Dinkar Prasad Sharma, Director, Research Services Dr G K Kotu, Director, Farms Dr Deep Pahalwan and other staff members were present.