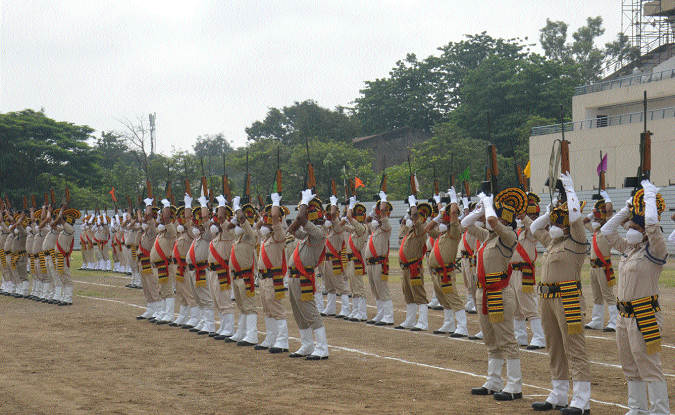 The full dress rehearsal for the Independence Day parade was conducted at Pandit Ravi Shankar Shukla Stadium, Wright Town, on Friday.
District Collector Karmveer Sharma and Superintendent of Police, Siddharth Bahuguna inspected the full dress rehearsal and gave necessary directions to the concerned officers.
A total of 132 personnel in six platoons representing Indo-Tibet Border Police (ITBP), Special Armed Force (SAF), District Police Force, Women Police, Home Guard will participate in the parade. Following the COVID-10 protocol, the cadets of National Cadet Core (NCC), National Service Scheme (NSS), Scout & Guide and Gram Raksha Samiti will not be the part of I-Day parade.
Reserve Inspector, Saurabh Tiwari will lead the Independence Day Parade midst melodious tunes of SAF Brass Band group.
Independence Day Parade in-charge, RI, Saurabh Tiwari informed that the final rehearsal was conducted with enthusiastic participation of personnel from different departments. He informed that the District In-charge Minister, Gopal Bhargava will unfurl the national flag during main function of Independence Day at Pandit Ravi Shankar Shukla Stadium, Wright Town, on August 15.
Final rehearsal was carried out under the supervision of senior officers while preparations for face upliftment of the stadium were given final touching. During the inspection, Additional Collector, Harsh Dixit, Rajesh Batham and other concerned officers were present.