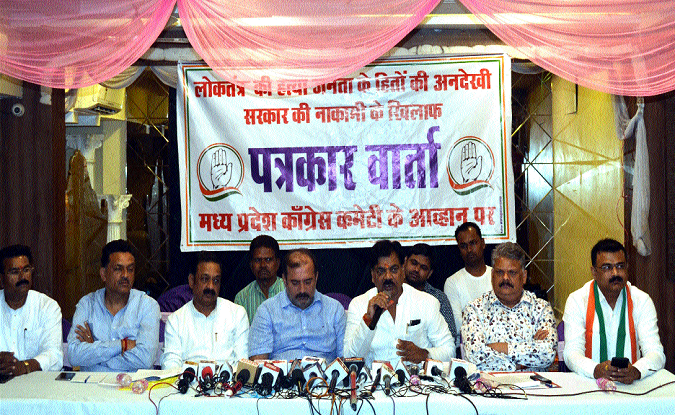 Congress MLAs, on Friday, condemned the State BJP Government for adjourning the State Assembly before the scheduled time. They said the Government deliberately adjourned the House proceedings just to avoid discussion on vital issues.
Addressing a joint press conference, MLA Tarun Bhanot, Lakhan Ghanghoria, Vinay Saxena and Sanjay Yadav said the opposition party has only 4 weapons to express the views and issues of the common man which are adjournment, attention seeking, discussion on 139 and non-official resolution.
They said the Congress Party gave written notice for discussion in the House on burning issues like price hike of petroleum products including diesel, petrol, LPG, inflation, relief to flood affected people, 27 per cent reservation for OBC, deaths due to covid-19, deaths due to toxic liquor, Pegasus spying,
corruption and women atrocities. Congress MLAs said, as the State Government had no answer to abovementioned questions, it did not include the issues in the agenda and expressed its desire by getting adjourned the State Assembly within a day.
Congress MLA said the Monsoon session of the Assembly which was supposed to run 4 days got adjourned just after 3 hours of proceedings. The Government always deliberately adjourns the house before the fixed duration. If any emergency comes up then the proceedings could have been adjourned for some time and called again but it never happens. They also blaimed the Government on making false claim that there have been no deaths in the State due to lack of Oxygen during covid-19 epidemic, while it is so contradicting especially in Jabalpur where everyone is well aware of the Galaxy Hospital case. They said it was very disappointing that Madhya Pradesh had become bumber 1 in atrocities against women. The Government has failed in protecting women and to provide a healthy living to poor people.