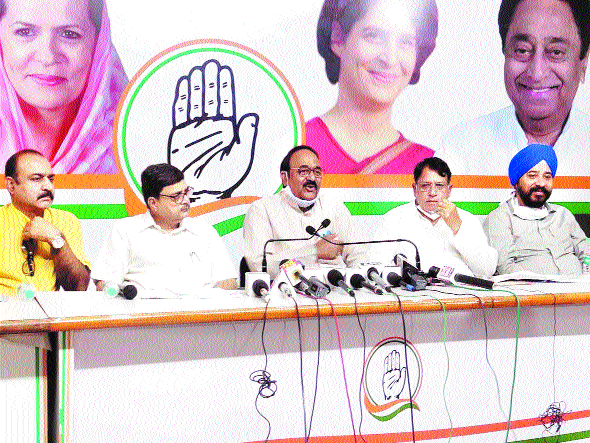 Congress has asserted that Government did not have the answers to the questions posed by Opposition, hence, its abruptly ended Monsoon Session of Madhya Pradesh Assembly in just three hours.
This was stated by former Assembly Speaker N P Prajapati, Congress MLA and former minister P C Sharma and Vice President of Congress Media Cell Bhupendra Gupta in a joint press conference in Bhopal on Friday.
They said that Government ran away from Assembly.
They said that only four-day Monsoon Session of Assembly was convened by the State Government and that too was wrapped up in just three hours. They said that Government did not have the intention to run the Assembly as if Government had the intent to run the House then it could have got House adjourned for some time and later resumed the proceedings. Amidst the hullabaloo, necessary bills were passed and Assembly was deliberately concluded. They added that Opposition has only four platforms to keep its view on any subject and they are adjournment motion, call attention motion discussion under rule 139 and private resolution. They said that Opposition had given in advance information for discussion on rising prices of diesel and petrol, situation emerged due to flood and administrative negligence, on OBC reservation issue, deaths due to consumption of spurious liquor, Pegasus spying case and corruption etc. They alleged that Government had no answers on aforesaid questions hence it did not include those subjects in the agenda.
They claimed that it is the habit of BJP government to run away from the Assembly. The first Assembly session of BJP government was called from March 24 to March 27, 2020. Instead of three days, this session lasted only for a day. The second session of was convened for 32 days in December but it was conducted only for six days.