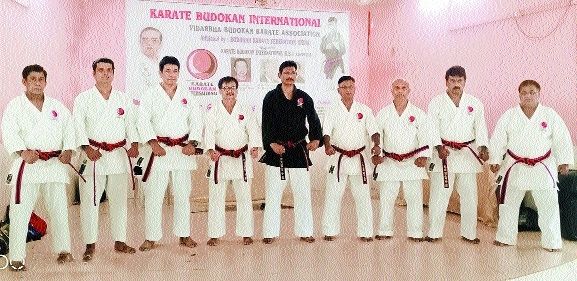 Budokan karatekas pose after belt gradation examination.
Principal Correspondent :
KARATE Budokan International (Vidarbha Region) and Karate Budokan Academy recently organised budokan coaching and belt gradation examination. The coaching and examination was organised by Kyoshi Harish Choube, Black Belt 7th Dan. Around 65 karatekas took part in the coaching and belt gradation examination. Out of these, six participants including Virendra Lautkar, Pawan Sahare, Ashok Sahare, Rajesh D'Silva, Ranjan Deb and Karunkumar Tirpude received 5th Dan Black Belt (Shodan).
Iliyas Ahmed, Shalini Ahmed and Raunak Dev received Black Belt 1st Dan (Shodan) while 14 participants got Blue Belt, 12 received Orange Belt and 22 participants received Yellow Belt. The programme was conducted by coach Renshi Pramod Jambhulkar while Renshi Devanand Pantawane proposed a vote of thanks. Sensei Disha Choube, Sensei Pranav Jambhulkar, Sensei Archisha Motghare, Sensei Astha Raut, Sensei Devanshi Bhisikar, Sensei Mehvish Khan and others were also present .