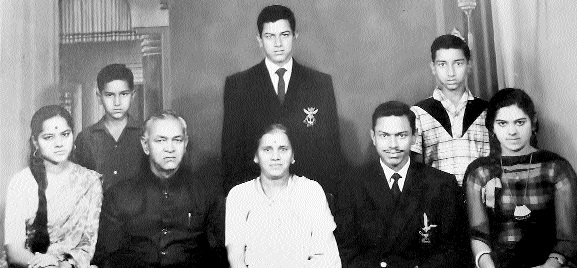 The Karnik Family: (From Left, front row) Vasanti, parents Shriniwas and Tarabai, Vijay (retired as Wing Commander), Shobhana, (standing) Ajay (retired as Air Marshal), Vinod (retired as Major General), and Dilip alias Laxman (Wing Commander), in this old photograph.
By Kartik Lokhande :
Wg Cdr (retd) Vijay Karnik, the real-life hero of the movie 'Bhuj: The Pride of India' shares memories of Nagpur with 'The Hitavada'
AS A youngster, he got his education here. He played cricket, got sanskaar from his eminent parents, visited the airport, Telenkhedi and Ambazari lakes... and did everything that a Nagpurian cherishes for life. As he grew up, he converted all these experiences into grooming himself to be a real-life hero under challenging circumstances during 1971 India-Pakistan war, when he was posted at Bhuj Air Force Base in Gujarat. Yes, he is none other than Wg Cdr (retd) Vijay Karnik. When 'The Hitavada' contacted the Indian Air Force (IAF) veteran, who has crossed 80 years of age and is settled in Vadodara in Gujarat now, Wg Cdr (retd) Vijay Karnik responded with joy and affection, for the place (Nagpur) as well as 'The Hitavada'. During the telephonic conversation, he opened up and recalled experiences during his growing up years in Nagpur. Born to a high-ranking Government officer Shriniwas Karnik and renowned social worker mother Tarabai, a young Vijay got inspired to serve the country. Asked about his memories of Nagpur, Wg Cdr (retd) Vijay Karnik was bubbling with enthusiasm.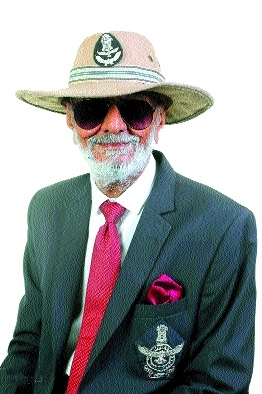 Wg Cdr (retd)
Vijay Karnik.
"We brothers joined National Cadet Corps. I was in Patwardhan School, my brothers were in Bishop Cotton School, sisters in St Ursula Girls' High School. Later on, I got admission to Hislop College. Our parents inspired us to serve the nation," he said. A young Vijay played cricket for South Zone Schools' XI team. He recalled watching cricket matches in which West Indies greats like Wesley Hall and Sir Garry Sobers played. He recalled watching Vinoo Mankad and Subhash Gupte play cricket and getting fascinated by their skills. He also recalled attending Pt Jawaharlal Nehru's speech during a Congress meeting held in the city. Compared to entire Maharashtra, Wg Cdr (retd) Karnik added with pride, Nagpur has contributed a greater number of accomplished officers to the Defence Forces. "Nagpur is a dynamic place. Growing up in Nagpur is different. As I can see, Nagpur has continued with this characteristic trait. You name IAS, IFS, Merchant Navy, Indian Navy, IAF, Army and what not... you will find Nagpurians doing exceedingly well," said the IAF veteran.
"I spent some of the best years of my life in Nagpur. I have many memories... Summers were hot in Nagpur even in those days. In the evening, we used to go to airport to watch flights coming from different directions with mails. The fare used to be half for passengers if they took these flights. The exchange of mails took one to two hours. During this period, they used to show free movies. We used to go to airport, enjoy coffee and movie," he said with a hearty laughter. Closer to the airport, Wg Cdr (retd) Karnik recalled, youngsters used to watch meteorological balloons. The family of one of his friends used to make these balloons, and the friends often visited the manufacturing facility to watch how those were made. During summers, youngsters used to go to Laxminarayan Institute of Technology (LIT) since it had one of the best swimming pools back then. At Telenkhedi, friends enjoyed boating. "Then there was Starkey point, Ambazari... and what not... Oh, I enjoyed my time," he added in a cheerful tone. The Karnik siblings' mother Tarabai was a renowned social worker. Speaking about his mother, Wg Cdr (retd) Karnik said that she was closely associated with Saraswati Mandir, Bhagini Mandal, and other social organisations. All the Karnik siblings wanted to visit Nagpur together, but COVID-19 came as a dampener. "But, we are planning to have a bust of my mother at Saraswati Mandir, Ram Nagar. Hopefully, we will do it soon," he said while concluding the happy conversation with 'The Hitavada'.
Hero recalls association with 'The Hitavada' Wg Cdr (retd) Vijay Karnik, the real-life hero of Bhuj Air Force Base story during 1971 war, recalled his association with 'The Hitavada'. "I had visited the old-styled building of 'The Hitavada' when I had taken nine wickets in a cricket match. The reporter then had taken me to the building to get a photograph of me for publication in the newspaper. I have vivid memories of that time," he said. Wg Cdr (retd) Karnik also mentioned that his father was an avid reader. Being a high-ranking Government officer, his father Shriniwas Karnik got posting at Chhindwara, Bilaspur, Bastar etc. "Everywhere, he used to get 'The Hitavada'. Obviously, we also developed the habit of reading 'The Hitavada', which has been the leading newspaper," he said in an affectionate tone.
All four brothers served in the Indian Armed Forces "My father asked us to serve the country and that the best way was to join the Armed Forces. I was the eldest among the siblings. It so happened that all of us four brothers joined the Indian Armed Forces," said Wg Cdr (retd) Vijay Karnik. Among his younger brothers, Vinod Karnik retired as Major General from the Indian Army, Dilip alias Laxman Karnik as Wing Commander, and Ajay Karnik as Air Marshal. It is indeed a rare phenomenon that four brothers from one family served the Indian Armed Forces and retired as high-ranking officers. Interestingly, all of them fought the 1971 war between India and Pakistan, which led to creation of new nation Bangladesh. This gives one more reason to Nagpurians to be proud of the Karnik brothers. All four brothers were looking forward to celebrate the 50th anniversary of India's victory in 1971 war. However, the youngest of the four brothers, Air Marshal (retd) Ajay Karnik PVSM AVSM VM, passed away on April 28, 2021.