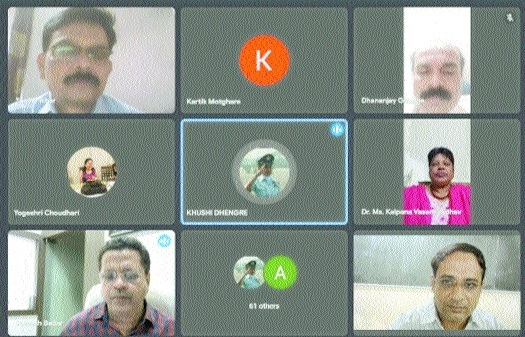 Speakers seen during the webinar organised by KDK College of Engineering, recently.
Principal Correspondent :
A One day webinar on importance of sports to maintain health was organised by the Sports Department of KDK College of Engineering, Nagpur. The webinar was held under FIT India Movement. Dr Kalpana Jadhav former, Director, Department of Physical Education and Sports, RTMNU was the guest speaker on the occasion. She spoke on the importance of sports and physical activities during pandemic period. Dr Jadhav advised that at least 30 minutes of physical activity daily should be performed by all. "The COVID-19 pandemic has forced all of us to maintain good health and increase our immunity. If we maintain good immunity, it will help all of us in defeating coronavirus," said Dr Jadhav. She also said that every student and others should do workout daily for at least an hour to keep the body fit. "Jogging, running, doing yoga and other exercises is must to beat the virus.
All should also maintain hygiene," she advised. Dr Jadhav also said that children below 18 years should also keep themselves fit and do workout regularly. In his speech Dr AM Badar, Vice-Principal, advised students to maintain health by doing some exercise daily. "All should include exercise in their daily schedule," he said. Dr SR Ikhar, Prof DY Ghadge, Prof SA Kurzadkar organised the webinar for benefits of students and faculty members. Khushi Dhengre conducted the programme while Ashish Mishra proposed a vote of thanks. Dr AA Jaiswal, HOD, CSE Department, Dr Valsson Varghese, HOD Civil Engineering, Dr CC Handa, HOD, Mechanical Engineering, Dr PD Khandait, HOD, Electronics Engineering, Dr SP Khandait, HOD, IT Department, Dr SS Ambekar, HOD, Electrical Engineering, Prof AL Tulankar, HOD Basic Science and; Humanities, all staff members and students attended the webinar. Rajendra Mulak, Secretary, BCYRC and Yashraj Mulak, Treasurer, BCYRC lauded the efforts taken by all for organising the webinar.