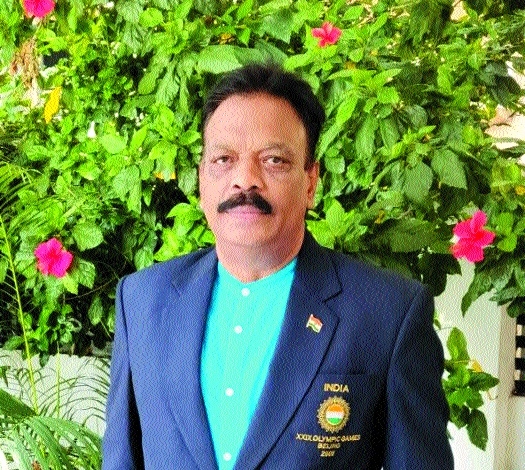 Roopkumar Naidu
Former international handball player and ex-SAI boss, city's Naidu becomes co-owner of Garvit Gujarat, the first franchise team of Premier Handball League
THANKSGIVING is a very important thing in life to express gratitude. And it becomes more relevant when it is not limited to words but is translated into some concrete action. So, it hardly came as a surprise when Roopkumar Naidu, city's former international handball player and a person who served Sports Authority of India (SAI) in various top roles decided to give something back to handball after his retirement. On Monday, Premier Handball League (PHL) announced Garvit Gujarat as the first team (of the six) to compete at the inaugural edition of six-team event scheduled next year. The team is owned by Garvit Sports Private Limited (GSPL) and Naidu, fondly called as 'Paplu' in handball circles is one of the co-owners. It is indeed a matter of pride for Vidarbha and even Maharashtra. Naidu wants to give something back to the sport that has given him everything in life.
"I have had a long association with Gujarat as an sports administrator. I know many people over there and importantly, the corporate houses and the politicians are more than happy to contribute for sports. When I got an opportunity to be among the Directors of the proposed team for the inaugural edition of the spot that gave me everything, I just accepted the offer with both hands. I and my brother Rajkumar were among those players who were part of the first Indian handball team that went abroad for participating in the tournament. "Players from Gujarat will be surely be benefiting from this league but I also have some plans for Nagpur. In the first stage, I want to open a state-level handball academy in Nagpur and want to convert it to a national level one. I want to give something back toe the sport that made me what I am and this will be a small contribution from my side for revival of the sport in the region," said Naidu while talking to 'The Hitavada' on Monday.
"Nagpur ruled national handball for years in the eighties. With the help from former players, bureaucrats and politicians, I will try my best to revive sport in the region and ensure that we once again bring Nagpur on India's handball map," Naidu asserted. Naidu, a Shiv Chhatrapati Sports Awardee, was part of Indian team at 1979 Asian Championship in China as well as country's first international appearance at the 1982 Asian Games. The inaugural edition of the PHL is scheduled to take place next year, ensuring the presence of top-class players from across the world. PHL is exclusively licensed by Bluesport Entertainment Pvt Ltd under the aegis of Handball Federation of India.