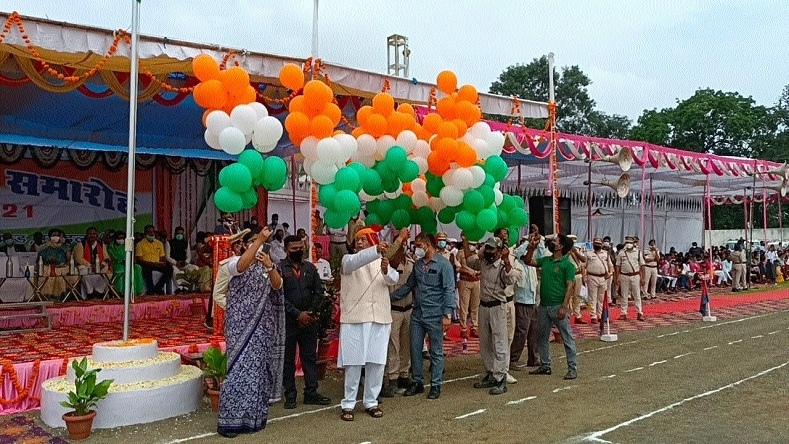 District In-charge Minister Bisahulal Singh releasing tricolour
balloons on the occasion of 75th I-Day celebration at Mandla.
Our Correspondent :
MANDLA,
The 75th Independence Day was celebrated with patriotism and dignity in the stadium of district headquarters with pomp and show. Chief guest of I-Day celebrations, State's Food, Civil Supplies and Consumer Protection and District In-charge Minister Bisahulal Singh unfurled the national flag followed by national anthem. After flag hoisting, he took inspection of parade. After Madhya Pradesh song, the chief guest released saffron, white and green coloured balloons in the sky. After the Joy Fire, the District Force, Home Guard, Shaurya Dal, Squad Guide, Red Cross etc. performed brilliantly in the march past. Chief guest Singh read out the message of CM Chouhan in name of the people. In-charge Minister Singh announced formation of Deendayal Antyodaya Samitis at gram panchayat level and ward level in urban bodies on the occasion. Most literate women in the panchayats hoisted the flag.
Most educated women of the village hoisted the flag in various panchayats of the district. Similarly, girls who scored highest marks in class XII also hoisted the flag in their village. In some panchayats, the flag was hoisted by differently-abled. Similarly, women who imparted alphabet knowledge to illiterate women in Mahila Gyanalaya also hoisted the flag. Presentations based on tribal folk culture were organised in the main function of I-Day. Rajya Sabha MP, Sampatia Uike, District Panchayat President, Saraswati Maravi, District and Sessions Judge, R S Sharma, Judges, Collector, Harshika Singh, Superintendent of Police Yashpal Singh Rajput, Assistant Collector, Agrim Kumar, DFO, Kamal Arora, Municipal President, Purnima Shukla, Municipal Vice President, Girish Chandani, Bhishma Dwivedi, Vice President, District Panchayat, Shailesh Mishra, Zilla Panchayat members, district members, corporators, public representatives and dignitaries were present. Chief guest Singh honoured officers and employees of District, Police and Health Department for their excellent service.
The programme was conducted by Akhilesh Upadhyay, Abhilash Tiwari, Rajesh Jaiswal and Preeti Dubey and thanks were shown for everyone's contribution and dignified presence of guests in the function. Democracy fighters of the district were honoured by the district administration at their residence. During this, officers appointed by the district administration honoured them with shawls, srifal and sweets. In-charge Minister Bisahulal Singh launched second phase of freedom campaign from illiteracy and Mahila Gyanalaya programme. He honoured women who were benefited through both campaigns by giving them shawls and certificates. Both the above programmes were started from August 15. District administration has been honoured with Goldscotch Award for the programme held under the guidance of Collector Harshika Singh.