Sports Reporter ;
INDEPENDENCE Day was celebrated with great zeal by various sports organisations of the city. A bicycle rally was organised by the newly appointed Bicycle Mayor of Nagpur Dr Amit Samarth. The rally was flagged off by the NMC Commissioner Radhakrishnan B and the District Collector Vimla. Both encouraged people to take up cycling as a means of transport and assured that they would soon help develop Nagpur into a Cycling City. The rally was well attended by many citizens. India Pedals, a non-profit organisation formed for promotion of cycling in the city, is working in collaboration with the city administration to make Nagpur a Cycling City under the Smart City Project. This is the vision of Dr Samarth, an ace ultracylist of the city to help make cycling a viable mode of commute for all citizens. The authorities are focusing on creating infrastructure and safety on roads. Various events and rides are lined up to motivate citizens of all age and gender to take up cycling for short distance commuting.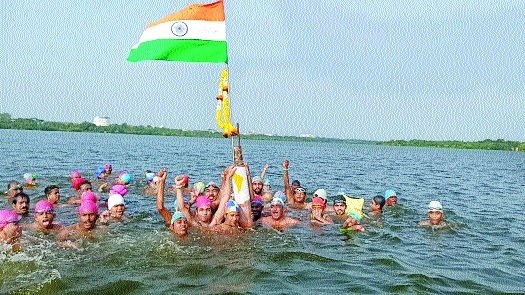 Shark Aquatic Sporting Association SWIMMERS of Shark Aquatic Sporting Association and Ambazari Ware Conservation Committee hoisted the tricolour in 50-foot deep water in the middle of Ambazari lake. Shekhar Sathe was chief guest on the occasion. Suru Babu, blind swimmer Ishwari Pande actively participated. The event was conducted by Sanjay Batwe while Chandrakant Magre proposed a vote of thanks.
Laughter Riders and Runners LAUGHTER Riders and Runners (LRR) organised a fabulous cycle rally which started from Japanese Garden and ended at Shiv Dhan Kanta Hospital passing through Ladies Club and RBI square. Blood donation camp was oragnised at Shiv Dhan Kanta Hospital where the cyclists donated blood, informs LRR's by Nurul Hak. The main attraction of the rally was Organ Donation Awareness.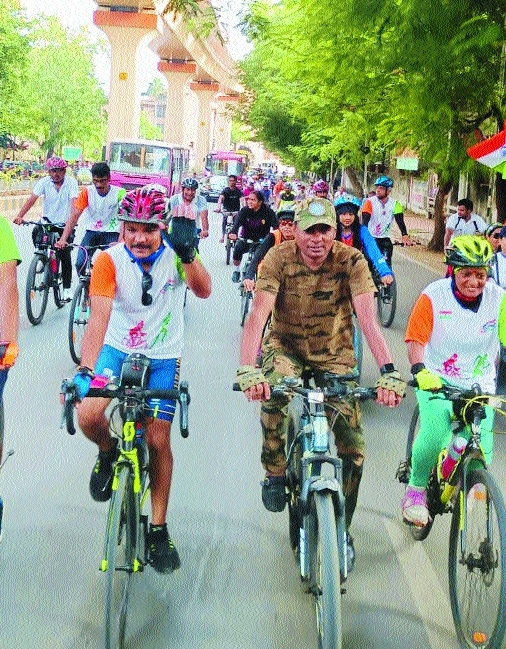 Organ donation information was given by Dr Gupta. As many as 18 people filled the form for organ donation, in which Archana Bongalwar and Anant Khedikar opted for whole body donation. Renu Kaur Sidhu, Nayana Thakkar, Shabina, Aditi Pal, Yogita Barde, Sayuja Chamat, Rekha Thawkar, Pooja Harbans Singh, Naleen Mathija, Kishore Tuteja, Anuj Mathur, Manoj Lokhande, Devendra Borikar, Dipak Sukhdive, Manohar Lal Ahuja, Krishna Dhabrase and Sunil Gulari all pledged for organ donation. Lions Nagpur Noble, JCI Central Nagpur, and Metropolis Path Lab were the co-partners of the rally.
District Kisan Yoga Committee DISTRICT Kisan Yoga Committee, Bharat Swabhiman Trust (BST) Nagpur District, Patanjali Yoga Committee and Youth India, Nagpur District celebrated the Independence Day at BST office.
The national flag was hoisted by Pradeep Katekar, the Nagpur district in-charge of Bharat Swabhiman Trust. On the occasion, Katekar announced the newly appointed office bearer. The list includes Deepak Yewale, Dr Jivesh Panchbhai, Ram Agashe, Devidas Thakur and Ritu Zargar.