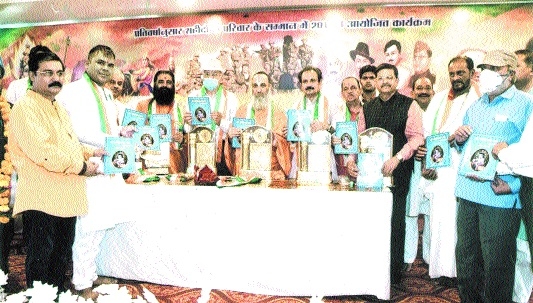 Guests releasing a souvenir during Shaheed Samman Samaroh -2021.
Staff Reporter :
Family members of the bravehearts who sacrificed their lives in service of the nation and society were honoured during Shaheed Samman Samaroh -2021 on the 75th Independence Day. The programme was organised on the initiative of social worker Amit Khamparia to mark his birth anniversary. Chief guest on the occasion were Brigadier (Retd), Vipin Trivedi while Jagadguru Raghav Devacharya Maharaj presided over the programme while BJP State Treasurer, Akhilesh Jain, Vice-president, Rajesh Mishra, Member, Arvind Pathak, Pandit Mahasabha Head, Vasudev Shastri, Senior Advocate, Sampoorna Tiwari and Paglanand Maharaj were the special guests.
Amit Khamparia welcomed the guests by presenting memento, shawl and shreephal and termed the loss of martyrs as irrecoverable loss to the nation. During the felicitation ceremony, relatives of martyrs named Lt Sardar Singh, Guardsman, Munnalal Patel, Major P. Purushottam, Ramesh Kumar Singh, Nk Dilip Kumar, Mohan Singh, Satyendra Singh, Abhay Nauria, Ganesh Shrivastava, Sunil Kumar Shukla while VSM, Santosh Chaturvedi were honoured during the programme.